The recent nationwide lockdown gave pet parents a perfect opportunity to bond and spend time with them. Taking this thought forward, a pet retail store recently hosted 'Pet Social', a virtual event for all pet lovers along with their families to attend from the comfort of their home and pet parents were in for a fun treat.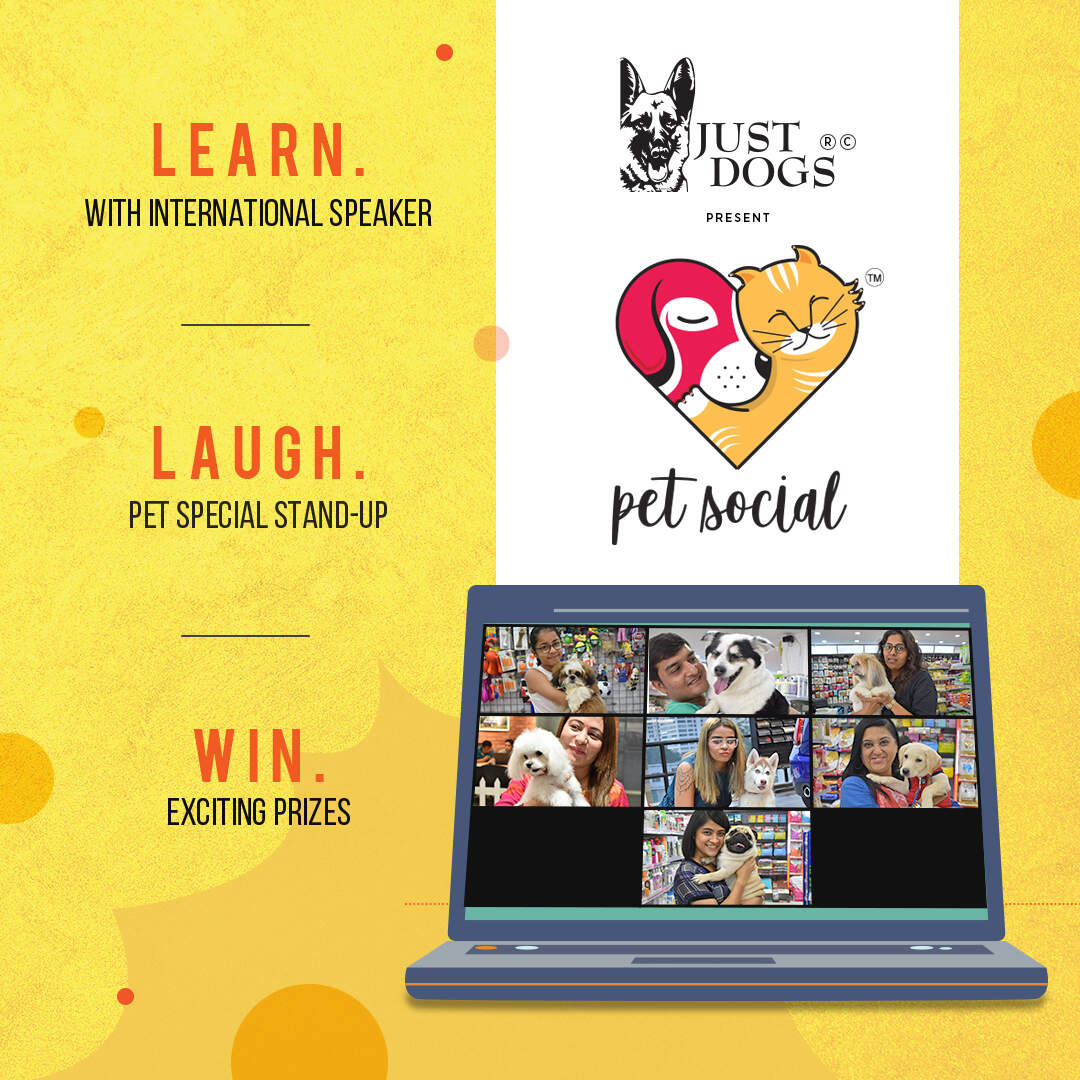 "With the current state of lockdown, we wanted to create a positive and fun experience for all pet owners to come together and interact with their pets through 'Pet Social'. Along with being a social and interactive event, we were also keen on spreading knowledge about the importance of nutrition in a pet's diet, and were overwhelmed to see the response and enthusiasm of the participants and the bonding and love they have with their pets." explained Ashish Anthony, Founder & Director, Just Dogs.

Hosted by a professional actor, the cutest online event started off with a quick game of Rapid Fire engaging pet parents by asking questions about their fur buddies and then moved on to an Obedience Game where owners proudly showcased their pet's best behaviour and tricks and won exciting hampers for the same.

After some games and fun interaction, it was time for some learning with the international speaker for the evening, who is a Harvard Business School alumnus, born and raised in the USA and has over 17 years of veterinary industry experience. He spoke in-depth to the audience about the importance of nutrition in a pet's diet and the benefits of a good diet in dogs as well as cats.

Along with this informative session, a round of quiz about pet nutrition was played to keep the fun and engagement alive, where the winners won hampers with exciting goodies.

Later, for the last session of the evening, it was time for some laughter and the attendees geared up for comedian Sahil Shah who entertained the audience with some amazing perspectives of the hooman-pet relationship and had everyone burst into a riot of laughter.





End of the article
News in Brief See All
Hurt a friend by declining lockdown wedding invitation?

This comes out of a concern to keep oneself safe and healthy. But when it comes to a close friend's wedding invite, you not showing up might hamper the friendship and lead to fall-out

Neha Dhupia's at-home kaftan is super sexy!

As Bollywood stars are self-isolating at home, they are choosing comfort styling over trendy clothes. While Alia Bhatt and Anushka Sharma are seen lounging in printed PJ sets, B-town fashionistas Sonam Kapoor and Kareena Kapoor are making the kaftan dresses look trendy.

Interesting recipes to try this Eid-al-adha

The festival of Eid-al-adha is here and preparations are in full swing. So, here are a few interesting recipes to make your Eid celebrations even more delicious.

Can you guess the price of Priyanka Chopra's at-home dress?

Priyanka Chopra loves to keep her fans impressed with her sartorial choices. While the actress likes pick bold outfits for her red-carpet appearances, her off-duty style is all about comfort styling. Currently, the actress is self-isolating at her home in America with her husband, Nick Jonas and has been giving us a sneak-peek into her daily life.
Keep Dry Dog Food Fresh in a Sealed Container. Dog food can start to loose it's freshness after it's open. If you buy bags of dog food use an airtight sealed container to store it, the food will stay fresh for much longer inside a tightly sealed container.
Visual Stories
Travel

Places where you can soak in sunlight all 24 hours!

Travel

How to experience the true essence of Sikkim?

Life Style

Fashion tips for men

Life Style

DIYs using cardboard

Travel

Wales, the country with most castles in Europe

Life Style

Beauty hacks for dry skin

Travel

Gorgeous Indian palaces, a walk through country's glorious past

Travel

Smart ways to save money during travelling in India
Comments (0)