Han Solo and Chewbacca. Dorothy and the Cowardly Lion. Alice in Wonderland and the White Rabbit. This Halloween, you can dress as any one of these famous duos by coordinating costumes with your favourite four-legged friend.
Halloween has become big business over the past two decades. In 2001, the British public spent £12m a year on it; that annual figure has since ballooned to £330m. There has also been a huge increase in spending on costumes for our pets, with more and more high-street stores, including Marks & Spencer and H&M, stocking them. There are fuzzy pumpkin, Darth Vader and Beetlejuice costumes available at Pets at Home this year, a ghost costume from Lidl and the inevitable unicorn from B&M. Rubie's, which claims to be "the world's largest designer, manufacturer and distributor of fancy dress costumes", has a range of more than 50 costumes for dogs, including the chance to dress up your pet as Scooby Doo's Mystery Machine van.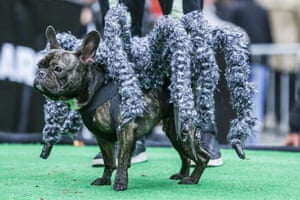 Pinterest
A dog dressed as a tarantula for the 2016 Halloween dogs parade in Tompkins Square Park, New York. Photograph: Brazil Photo Press/LatinContent/Getty Images
In the US, dog owners are estimated to spend $350m each year dressing them up. The Tompkins Square Halloween dog parade in New York is about to enjoy its 28th year, and features hundreds of dogs in elaborate costumes with props. It is one of the few places on Earth where you can see dogs dressed up as wizarding students riding the Hogwarts Express, a dog driving the time-travelling DeLorean from Back to the Future, pooches lining up as the famously flamboyant rock band Kiss or, thanks to a couple of prosthetics, appearing as the three-headed dog Cerberus.
This trend is partly a result of the Instagram age; on social media, videos of costumed pets are a genre in their own right. Compilation videos of dogs in costumes can rack up millions of YouTube views, and there are nearly 200,000 posts on Instagram with the hashtag #dogcostume. Social media users have gone wild for Chrissy Teigen's French bulldog dressed as bacon, Ariana Grande's shiba inu puppy dressed as a dinosaur and Miley Cyrus dressing her whole canine entourage as a banana split, a hamburger, a hot dog and a UFO.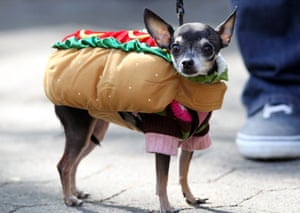 Pinterest
A hotdog in the 2012 parade. Photograph: Dan Callister/Rex
But the trend hasn't met with universal approval. Over the weekend, Chloe Jackson, a training manager at Battersea Dogs & Cats Home in London, questioned it, pointing out: "Not every dog is comfortable with a lot of handling and some will become very stressed if you try to put them in a costume – particularly if it involves forcing their legs into sleeves or putting something on their head."
Linda Ward, who runs the Busters Dog Walking service in Brentwood, Essex, says that, while she would never put her own dogs in fancy dress, she doesn't see it as a major issue. "Many dogs wear coats in winter, and assistance dogs wear jackets all the time they are working. Lots of dogs don't even like collars or harnesses being put on, yet that is deemed acceptable." From a dog's point of view, a simple costume won't feel very different. At the more extreme end of the trend, animal welfare activists have questioned the use of creative grooming at Halloween, with dogs having their hair cut, styled and dyed into unusual designs – there is a risk that animals may have allergic reactions to the products.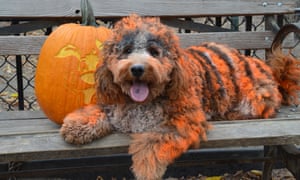 Pinterest
A dog dyed to look like a tiger in the 2015 parade. Photograph: Simon Leigh for the Guardian
Cesar Millan, whose Dog Whisperer TV show has been broadcast in more than 80 countries, has advised owners to adhere to certain rules around Halloween costumes. While boots and coats can offer protection from the weather, elaborate costumes don't. He has urged owners to remember that the costumes are for our enjoyment, not the enjoyment of the animal. "They can be very cute, and get a lot of attention," he said, "but underneath the costumes, they're still just dogs."
Louise Glazebrook is a dog behaviourist and trainer who runs the Darling Dog Company in London. She says she doesn't have an issue with dogs in costumes, but there are certain things to bear in mind. "Anything a dog wears shouldn't inhibit natural behaviour; a dog should always be allowed to be a dog. A costume with a hood will cause stress and therefore change the dog's behaviour and should be avoided. The other thing is to watch out for the material – a dog is going to get really hot in polyester or nylon."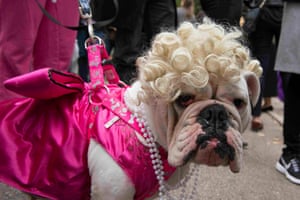 Pinterest
A canine Marilyn Monroe in the 2015 parade. Photograph: Stephanie Keith/Reuters
She says every dog is different, and the needs of, say, an Italian greyhound that needs layers in the winter are not the same as those of a bernese mountain dog with its thick natural coat. "Your dog will also tell you if it is unhappy," she adds. "If their body language says they are unhappy or they seem stressed, just forget the costume altogether."
Most owners would easily recognise if a costume was causing their dog distress, although Ward cautions that they may miss more subtle signs of stress, such as a dog licking its lips or initially refusing to move after the costume has been put on. But, as she reminds us, in the long list of cruel things humans do to dogs, "dressing them up as a pumpkin once a year doesn't come close".