-- By Shuchi Kalra

Here are some famous and loved doggie movies of all time. Plus, this week's pet query...
Lady and The Tramp

This Walt Disney classic revolves around the unlikely romance between a pure bred and uppity female Cocker Spaniel (Lady) and a free-spirited, rebellious male mutt (Tramp). The movie has a strong message for pet parents who are expecting a new addition in the family.
Lassie Come Home

Touted as one of the all-time classic dog films, this is a heart-rending story about a loyal Collie named Lassie, whose poverty-stricken family is compelled to sell her off. But Lassie will do anything to get back to her original pet parents.
Turner and Hooch

One of the most delightful 'cop and dog' movies, this one features Tom Hanks as detective Turner and a French mastiff named Hooch. The sleek sleuth ends up with a mischievous and incorrigible dog to jointly investigate a murder mystery!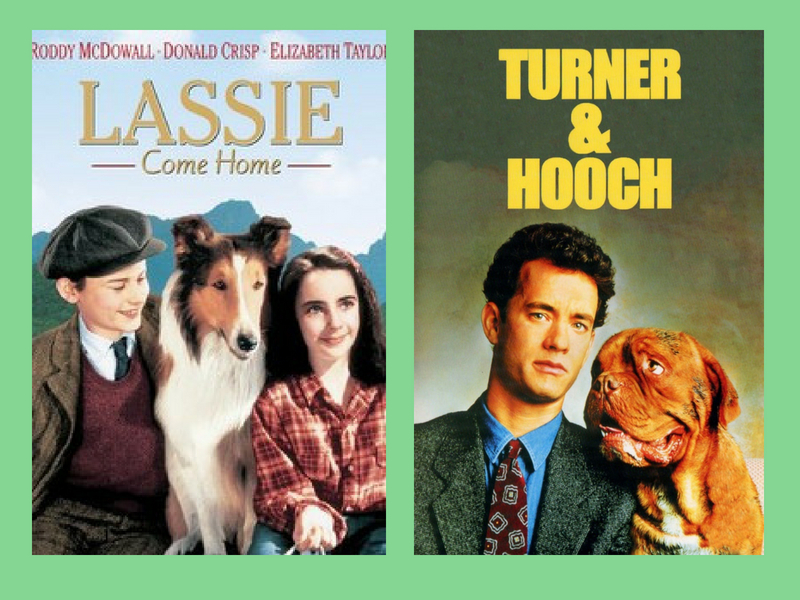 Old Yeller

This classic dog movie is an evocative tale of a stray mutt called Old Yeller. Little Travis is hesitant to adopt Yeller. However, he undergoes a change of heart after Old Yeller proves his mettle as an ideal dog.
Benji
It's difficult not to love shaggy-haired mutt Benji. Benji is taken in by two kids, Cindy and Paul, but their father is strictly against having a stray dog in the household...
Eight Below

An inspiring story about brave sled dogs. Jerry shares an intense bond with his set of six Huskies and a couple of Malamutes. However, during an expedition, foul weather demands that the loyal dogs be left behind. A long and tumultuous journey in the Antarctic snow begins and the courageous and adorable dogs battle against all odds to survive.
Beethoven
This sloppy but lovable pooch has inspired many kids to ask for a pet dog as their birthday present. Beethoven is a St Bernard pup whose clumsiness often results in comic mayhem.
Homeward Bound

This film traces the adventurous journey of a Golden Retriever named Shadow, a Bulldog named Chance, and a Himalayan cat named Sassy. The trio is separated from their family following a course of events. It takes a lot of stunts and surprises before they can be reunited.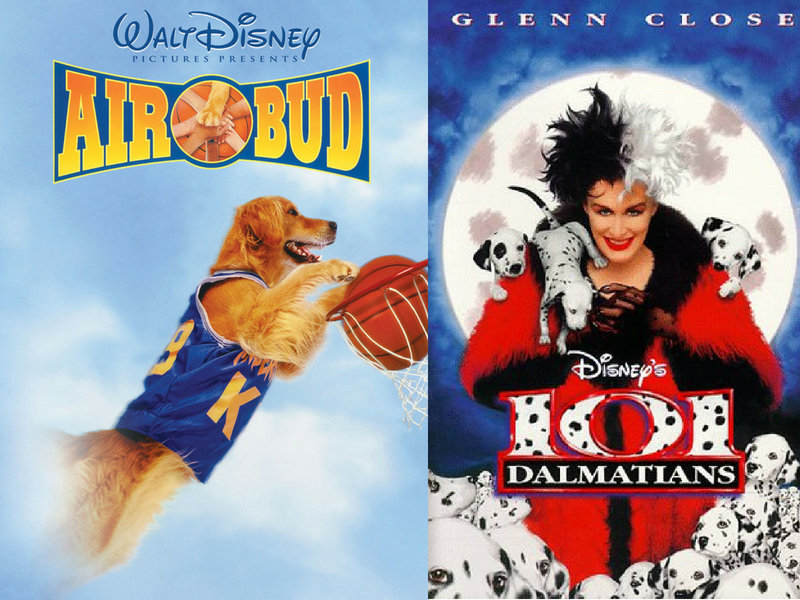 101 Dalmatians

This movie centres around a cuddly bunch of spotted puppies and their loving parents Pongo and Pedrita... till quintessential vamp Cruella Devil kidnaps them.
Air Bud

A high-flying entertainment extravaganza for kids, this dog tale is packed with silly antics, goofy baddies and loads of adventure.
www.dogsandpupsmagazine.com
www.facebook.com/Dogsandpupsmag
Pet Queries

Q. I am a pet parent of a seven-month-old male Yorkshire Terrier named Frodo. We had gone on a holiday leaving our pet with our house helps. He has been peeing on beds since then, even after we came back. What can we do to help?
–Priti Goel
It's quite likely that your dog has developed separation anxiety. Do you have a set routine each day before you leave the house? Perhaps you jingle your keys, put your bag or briefcase near the door or kiss your spouse and kids... Your dog picks up these cues, and associates them with you leaving the house. Practice leaving – plan short trips that allow your dog to gradually adjust to being alone. If Frodo seems comfortable with half-hour departures, and exhibits no anxious behaviour, increase your time away. Go for a walk. Take your dog for a long walk before you leave. That will make him too tired to misbehave. Before you leave, bury toys and hide treats where he can find and 'dig' them up. Keeping a TV or radio on can also provide 'company' for your pooch. Try not to cure your dog's anxiety by giving him more attention – you'll only create a vicious cycle of neediness. Likewise, never get angry when your dog acts clingy.
READER'S CORNER

Muku and Mahi's friendship

I was not a pet lover and was always against a pet at home. My brother has always been a pet lover and has wished, from childhood, to have a pet dog at home. I, along with my mother, used to make him understand the difficulties of having a pet at home. Still, after so many years, this year in February my brother brought a little German Shepherd puppy at home in Kolkata. My daughter, Mahi, and I first saw the little one in a video call and believe me it was love at first sight. My daughter named it Muku (from her favourite show Doremon).
We eagerly waited for the summer vacation when we could meet our Muku. It took hardly any time for Muku and my daughter to become friends. During that one month they become forever friends. Our little Muku was a blind follower of Mahi, always ready to play. He liked to sit near her all the time. Mahi did not like it if anyone scolded Muku, though she would. That's the very unique bonding between them. Muku is only five months old but he can understand each one in the family. During this stay, I understood the joy of having a pet.
—Kajari Ghosh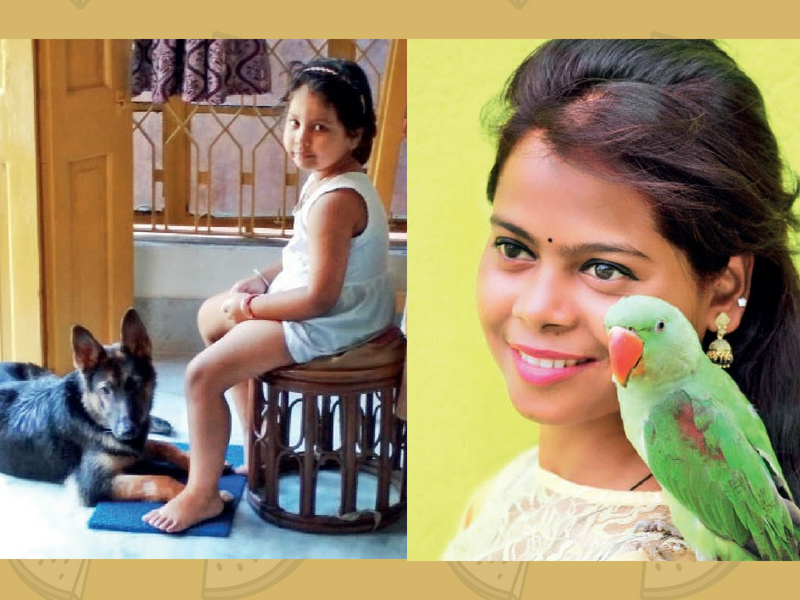 Rinny and rocks

A rabbit is cute and shy as a pet. My mom presented a pair of rabbits to me on my birthday. They were just five months old when they came home. We named them Rinny and Rocks. I could stare at them throughout the day – their fluffy tail and soft fur made them even more loveable. When they were happy, they would jump all day. One day, Rinny and Rocks encountered a dog but Rocks scared the dog away.
Now, they are no longer with me but will always remain in my heart. Remember, rabbits are as brave as a dog or cat.
—Devika Padwal, Jaipur

Sunshine loves guava

I am Binita and my pet is a parrot. Her name is Sunshine. She is a cute bird; her eyes are innocent and her body is a shiny green. She came to our home when she was just a month old. She filled my life with new colours and happiness. Sunshine loves eating guava. Now she is seven months and has started talking and calling out 'mitu maa' the whole day. I love it when she says 'maa' to me. Once she was sitting on a plant in the garden and suddenly flew away. But she came back on her own and never left me ever again.
-- Binita Soreng, Jharsuguda, Odisha

Are you a proud pet parent? Have a cute cat story to share? Maybe your guinea pig is giving you trouble? Whatever is your creature companion, we are here to listen to you. Send your photos, queries and stories to [email protected]