The police and RSPCA have backed Snarl, set up by a south London couple, to solve the bloody deaths of up to 500 pets. Will their trail lead to justice?
Tony Jenkins takes a deep breath as he sits down with his large cappuccino in a south-London cafe. He pulls out his phone and lays it on the table. "It might go at any time," he says. "If it's someone saying: 'I've just found my cat and its head is missing,' or a vet, or police saying someone's brought in a victim, we'll basically jump in the car and go."
Jenkins, who is 53 and wears a long grey ponytail, is one half of an unlikely crime-fighting duo. He and his partner Boudicca Rising are behind South Norwood Animal Rescue and Liberty, or Snarl. Backed by the Metropolitan police, the National Crime Agency (NCA), the RSPCA and animal rights group Peta, the couple have led the investigation into the "Croydon cat killer". They believe the man, who became known as the UK cat killer as his reign of terror spread, is responsible for as many as 500 deaths.
At the height of the scare, police and the NCA suggested that the suspect had dark, sexual fantasies. "The concern is they will cease getting that gratification and escalate the attacks to humans, specifically vulnerable women and girls," said DS Andy Collins last November. The story tapped into dark public fears about shadowy killers, a national obsession with cats – and an appetite in newsrooms for headlines like "Slaughter in suburbia".
But almost three years after the murders began, the killer is still at large. Apart from mutilated bodies and body parts, there is nothing to point at any individual. No CCTV footage, no clothing snagged on a garden fence, or human DNA under a feline claw. No murder weapon.
There are suggestions by experts, fiercely contested by Snarl, that the prime suspect may itself have four legs and whiskers: the fox. Sceptics have made comparisons to a cat-death scare that swept Britain in the late 1990s, when the police quietly dropped a similar manhunt. As reports of grisly deaths continue, Scotland Yard has apparently eased its support of Operation Takahe, launched in 2015 to coordinate the investigation. Collins is no longer on the case. Are Rising and Jenkins going to crack the crime of the century from a cafe, or have they unwittingly propagated a suburban myth?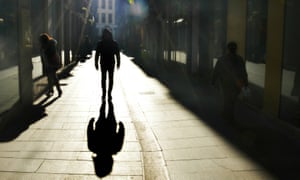 Pinterest
There is no trace of the cat killer: no CCTV footage, no DNA and no murder weapon. Photograph: Getty
Rising, who is 47, arrives late to the cafe in a whirlwind of red hair and pulls out her laptop. She demurs when I ask if Boudicca Rising is her real name ("It's the only one you're getting while I run around after a psychopath"). She works in data for a big company she prefers not to identify. Her boss allows her to work from home a lot. "She's a cat person," Rising explains, grappling with a spreadsheet.
Jenkins, who is from Merseyside, met South African-born Rising on Facebook in 2013. The divorcees happened to live close to each other, and between them they now have more than 30 cats. A year later, they launched Snarl to rehome local rescue pets. Jenkins had more time; he was living on a redundancy payout after 20 years with Westminster council. In September 2015, he spotted Facebook reports of four mutilated cats in nearby Addiscombe. They had variously been cut across their stomachs and necks, and there was a missing tail. "I thought: 'Oh, hello,'" he recalls.
Within weeks, a string of grisly deaths came to Snarl's attention, all in the Croydon area. They included decapitations. Heads and other body parts would be left in gardens and on doorsteps for owners to find. Police and the RSPCA said that little could be done, even when a vet with forensics experience determined that a headless cat, brought to him by Snarl, had been killed by blunt-force trauma and then mutilated. He said the cleanness of the cuts suggested a knife.
The RSPCA blamed the deaths on foxes. This only emboldened Snarl, which launched an awareness campaign from its burgeoning Facebook page. An online petition to police got almost 50,000 signatures. The group protested outside Croydon police station, printed leaflets and ambushed the then Met commissioner, Sir Bernard Hogan-Howe, during a public meeting at a Croydon school.
"Croydon cat killer", was the Metro headline in September 2015, above a report about the "twisted moggy-hater". By December, the death toll had hit 31. The actor Martin Clunes, who went to school in Croydon, wrote to Hogan-Howe. "This is the stuff of nightmares," he said, adding: "No one feels safe while this sick individual is on the loose." Peta offered a £5,000 reward, and Snarl advised pet owners to keep their cats inside at night.
In December 2015, the Met and the RSPCA relented and launched Operation Takahe to work with Snarl. In Mike Butcher, a veteran RSPCA inspector, and Collins, Snarl had found prominent, enthusiastic and media-friendly allies. The killer was thought to be luring victims with chicken and bashing them on the head before dismembering them. Kills were soon recorded as far away as Manchester. Eventually, the media coverage would spread from South Norwood to the pages of Vanity Fair and the New York Times.
Pippa Gregory, a behavioural analyst at the NCA, made the warning about sexual fantasies and a risk to human life in a BBC documentary broadcast last summer. It then emerged that ArroGen Veterinary Forensics, Britain's first animal forensics lab, based at the University of Surrey, was examining corpses. In August 2017, Snarl shared a description they said came from the police, of a possible suspect after reports of suspicious activity in Surrey. The white man in his 40s had acne scars and wore dark clothing and a head torch.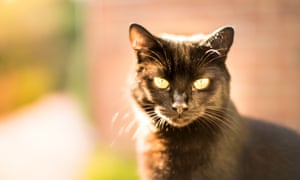 Pinterest
Investigators believe the cat killer could be responsible for up to 500 deaths. Photograph: Getty/iStockphoto
At the heart of it all were Rising and Jenkins, taking calls and driving to crime scenes in an old Ford Focus, storing bodies and heads in Jenkins' freezer. "Our lives have become completely chaotic," he says. "But it's the horror of what I'm seeing that keeps me going – the devastation it causes to families. Each time it happens, I try to turn that horror into anger."
Andy Smith remembers the moment, four months ago, that he found his cat Polly on a path near his Surrey home. "Her head, if it had been there, was facing downhill," he says. Smith, 54, had rehomed Polly and Basil as kittens a year earlier. "She had no head, no left leg, and what looked like intestines coming out of her neck. I'd never been so bereft."
Smith suspected Polly had been struck by a lorry on the busy road to which the path leads, before scavengers had swooped. He buried her in the garden. Six weeks later, Basil went missing. After a fruitless search, Smith got a "horrible feeling" about a connection. When he reported Basil's disappearance to police, and described Polly's death, he says an officer arrived the same day. "He said that, from the description of the injuries, he was satisfied that this was a cat killing," says Smith, a former radio journalist, who now believes that the killer had come back for Basil.
For sceptics, however, Smith's first instincts were more likely to be right. Stephen Harris, a recently retired professor of environmental sciences at the University of Bristol, has studied fox behaviour for 50 years. Harris declined to speak to me during preparation of this piece, but in an opinion piece in the New Scientist in May, he argued it was to be expected that no killer had been caught "because there is no 'killer.'" He recalled the dead-cat panic of the 1990s, when he said the RSPCA sought his advice. The Metropolitan police launched Operation Obelisk in 1998 after dozens of cat deaths in Greater London. There were rumours of satanic rituals. A forensic psychologist pointed to violent or sexual abuse in the killer's childhood. But, to the dismay of campaigners and amateur sleuths, the police quietly dropped the case in 1999, after Harris inspected several cats. He concluded that they had been killed by cars and mutilated by foxes. "We have known for decades that foxes chew the head or tail off carcasses, including dead cats," Harris wrote this year.
Rising and Jenkins are furious about Harris's intervention. They blame him for the initial scepticism of the police and the RSPCA in 2015. When resources are stretched, it is easier to blame foxes, they argue. "I'm not a scientist – I've got an A-level in physics – but when vets with forensic experience say: 'That ain't no fox that's done that,' they're closer to being experts than Harris, who is not a forensic pathologist," Jenkins adds.
Snarl says Harris ignored repeated requests to discuss the new cases – a claim Harris unequivocally rejects, stating that he received no such requests from Snarl or its principals [see footnote]. And Harris is not alone. Melinda Merck is a leading forensic vet and cat specialist who has spent more than 20 years studying and solving high-profile animal abuse cases in the US. She recalls several similar grisly cat deaths where, "depending on the level of experience of the vet doing the examination, the sharpness of a predator's teeth, and the way the skin can tear, can make it look like it was cut with a sharp object … Vets can miss small defects that correspond to a tooth, or puncture wounds hidden in fur."
Students of history, meanwhile, have drawn parallels with moral panics, in which fear and lurid headlines amplify perceptions of danger, often of a "folk devil" figure, heaping pressure on authorities to act. Sociologists have identified a cycle where initial concern about deviant behaviour triggers hostility towards the person or people accused, which reaches such a level, thanks to media coverage, that disproportionate action is taken. "This seems to have resulted in the creation of Operation Takahe," says Richard Ward, a lecturer and historian of crime and the reporting of crime at the University of Exeter. Big media coverage of an apparent spate of crimes can also conceal more mundane events. For each of the cats reportedly killed by the suspect in the past three years, almost 1,500 died on the roadside, according to a calculation based on a 2006 estimate of vehicle-related cat deaths. If foxes mutilated even a tiny fraction of those bodies, the predation theory begins to look more probable. "But it only takes a small change in media reporting to have a big impact on perception," Ward adds.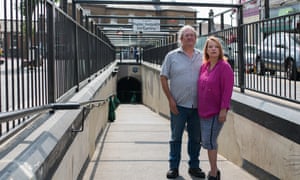 Pinterest
Tony Jenkins and Boudicca Rising. Photograph: Alecsandra Raluca Dragoi for the Guardian
Rising and Jenkins have no doubt about what they are dealing with. They reject suggestions that such frequent killings might even be the work of multiple people, never mind cars or foxes. Rising says mapping of the crime scenes suggests a solo killer's movements, while Jenkins lists incidents in which fox involvement would seem impossible: a decapitated cat statue in the garden of a missing pet; a head left on the penalty spot of a garden football pitch. "That wasn't a fucking fox that did those," he says.
The couple's concern is genuine – and understandable; the RSPCA receives 1m calls a year to its cruelty line. In January, police in Northampton arrested a man after five cats were found dead and mutilated in the town (the man was subsequently released, and Snarl ruled out a connection after recording coincident deaths further south). There is an established link between sadistic animal and human abuse and murder; serial killers often start by targeting pets, and children's charities warn that animal abuse in the home can indicate a graver threat.
But, despite their conviction, Snarl is concerned that the Met is losing focus. At one point, a team of 15 officers was reportedly on the case. After Collins' recent departure, Jenkins now understands just two officers are sharing one role. The Met declined to comment on the case, staffing levels and costs – or echoes of the doomed 1999 operation. They were still working, a statement read, "to review and further examine all information gathered during the course of the investigation".
But a spokesperson also claimed that the police is investigating the mutilation of cats already killed by vehicles, not a cat killer. This is at odds with the approach of Collins, who has repeatedly discussed the hunt for a killer. (The Met declined to clarify this discrepancy). The RSPCA could not locate Butcher for comment, meanwhile, but said the investigation was continuing. Neither ArroGen Veterinary Forensics, nor Pippa Gregory at the NCA, would discuss the case.
At the south Norwood cafe, Jenkins' phone rings. A man in west London thinks he has CCTV footage of a cat theft. Jenkins wants to see it. "It may not be the cat killer," he tells the caller, later ruling it out. Later that day, he drives to Surrey to show Smith a head that he thinks might be Polly's. It had been found near the cat's home. But as the head defrosts in Smith's kitchen, it becomes clear that it belonged to another cat. "That's now someone else's misery," Smith says. At the time of writing, Basil is still missing.

Snarl scrapes by on donations and Rising's salary, as well as the support of hundreds of volunteers. The couple say they are exhausted, but they are also expanding their investigative and surveillance skills (they prefer not to reveal how, lest they alert the killer, but their aim is to try to predict his movements and intercept him, rather than respond to his acts). We may never know if one or more killers exist, or how many deaths they are responsible for. If there is one man out there, stalking the gardens of England, what will Snarl do when it catches him? "Tony's job is to stop me killing him, basically," Rising says.
Could he? Jenkins smiles: "Yes, but whether I'd want to is another matter."
• This article was updated on 14 August 2018 to include a response from Stephen Harris provided after publication of the piece.