It was 10 years ago that Animal Planet decided to introduce us to the most adorable sporting event on television — The Puppy Bowl! According to Puppy Bowl executive producer Melinda Toporoff, in an interview with Variety.com , this year's game included 66 puppies, 30 kittens, 5 penguins, 3 adult cats, 8 tailgate party dogs, 4 service dogs, and 6 hamsters. Not only is it the cutest thing ever but all of the animals are from shelters and ready to be adopted, except the penguins of course.
Only Puppy Bowl gives you adorable puppies playing football while kittens sit in skybox seats. The penguins cheered; the hamsters fixed a stadium blackout and an actual bird (Meep) "live-tweeted" the game — watch out Joe Buck, the Bird may be coming for your job!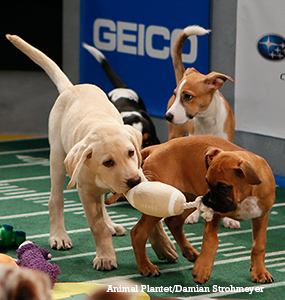 While we may not all agree on the best NFL team, at least we can all agree that there is no "best puppy." Still, only one could be named MVP (most valuable puppy), the honor went to Ginger, a 12-week-old Old English Sheepdog Mix, who represented her home state of Ohio! What she lacked in scoring touchdowns she excelled at in assertiveness! Not only did she show her dominance by chewing through the rule-book, but she also had quite the string of adorable penalties.
Even celebrities came to event such as, First Lady Michelle Obama, The Muppets, and perma-kitten/internet celebrity Lil Bub. Animal Planet really knocked it out of the park with this one!
Starting the Puppy Bowl X off were the members of the New York's Police K9 Unit who saluted our first-responders during the National Anthem. And you can't forget The Bissell Kitty Halftime Show which featured the world-renowned talents of Keyboard Cat.

They gave it their little-puppy-all Sunday. And when little Rudy, who had to be on his leash the whole time was let free to run in the final seconds of the game my heart melted.

Click here to watch some of the best moments of Sunday's Puppy Bowl!
If you have any questions or concerns, you should always visit or call your veterinarian -- they are your best resource to ensure the health and well-being of your pets.