Dogs are not just man's best friend but also an extended arm of security forces. The reliability of canines is 86 per cent and their indication is spontaneous. They are able to sniff almost all kinds of explosives and their sensitivity is unparalleled. Considering their powerful senses, it's highly feasible to include more canines in the security forces. Today's security scenario necessitates utilisation of their exemplary bio-sniffers as vital auxiliaries to the fighting arms of forces.

History of canines in security forces
Dogs have been part of security forces since decades now. It was Romans who first trained dogs for close combat. The Russians trained dogs to blow off enemy tanks. The use of specialist dogs has found a mention in several wars during modern times like Vietnam War, Korean War, Indo-Pak War etc.
In India, the training of service dogs was introduced in the year 1943 at Babugarh (UP), and after prolonged efforts, a war dog training school was established at Meerut in 1959. At the present state, police organisations and central police organisations run their own training wings to train dog squads. Over the last few years we have seen some exemplary contribution by canines in various security forces.

Strong senses
Dogs' auditory, sniffing, and vision are unmatched to any machinery and to humans.
Sense of smell:
40-45 times more than humans
Sense of hearing:
20 times more than humans
Sense of vision:
10 times more than humans
Training and requirements
- Dogs are trained in the following areas to exploit their potential and capabilities.
- Explosive detection
- Mine detection
- Tracker
- Guards
- Infantry patrol
- Search and rescue operations
- Avalanche rescue operations
- Crude oil leakage detection
- Narcotics detection
Dogs as extended arm of security forces
- In narcotics and explosive detection, dogs are deployed at authorised trade and transit routes for monitoring people, luggage and vehicle carrying contraband, narcotics, psychotropic substance and explosive substances.
- Border patrolling.
- Tracking criminals and determing sterility of an area.
- In counter insurgency and terrorism, operations dogs are effectively utilised in ROP, mine detection and area sanitisation.
— Dr Anuradha Nema (Assistant Professor, CVSc & AH) and Dr Vichar Nema
(Assistant Commandant)
Zanjeer:
The brave-heart Labrador Retriever served as a detection dog with Mumbai Police. During the 1993 bombings, he helped recover 11 military bombs, 57 country made bombs, 175 petrol bombs, and 600 detonators. He passed away in 2000 and was buried with full state honours for his outstanding contribution to the nation.
Babu:
The all India gold medallist of the Delhi Police Dog Squad is the perfect example of beauty with brains. The four-year-old Labrador has become the pride of the entire unit. Babu won the department its first gold medal in the tracking test at the 61st All India Police Duty Meet held in Chennai this February. And now he is all set to serve the nation!
Expert talk
Q. Which dog breeds are the best for Indian conditions? Ashok Sharma, Jaipur
Labrador, German Shepherd, Beagles, Pom, Spitz, Doberman acclimatise well to Indian conditions though Indian breeds (Mudhol, Rajapalyam), local cross breeds, are best suited. Avoid brachycephalic dog breeds (short nose and flat faces), such as Pug, Bulldog and Boxer, as well as large breeds like Saint Bernard.
Umesh Kallahalli is a well-known vet


Pablo and Alex are soul brothers
I've always been an animal lover and had pets in my childhood. After growing up and having a family of my own I yearned for a dog; but didn't have the courage to keep one, owing to the responsibilities involved.
Then one day, miraculously enough, we adopted Pablo, a bulldog pup. Pablo seemed to be God's gift to my silent yearnings. After he came into our lives, I realised that they are perhaps the most misunderstood breeds. His looks may say he's ill-tempered but he is very amiable, child-friendly and non fussy.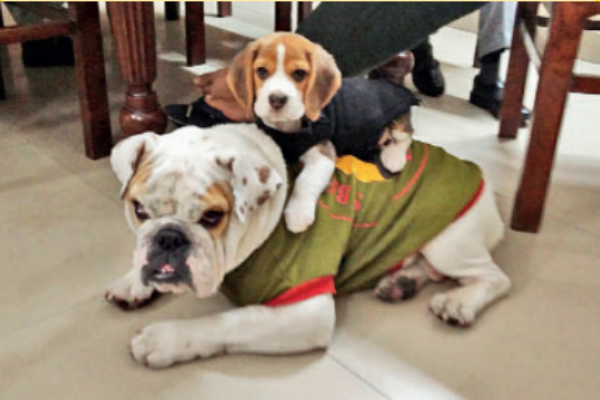 As time passed, I felt that Pablo needed company. That's how Alex, the Beagle, came into our lives. It was a bold decision; having two dogs meant double the work. But somehow, I mustered up the courage to get Alex, the naughty, ever-exploring, chew-all pup. And Alex was accepted by Pablo from Day I.
Though Pablo was just about 10 months when Alex came, he behaved like his father – sitting with him, taking care not to hurt him while playing. They have very different temperaments. In the morning, all Pablo wants is food and all Alex wants is love. Two dogs means double the work and time, not to mention expenses. But it's also double the joy.
— Dr Shafali Yadav, Ghaziabad