For the past one week, Galahs has been grieving, waiting for the love of her life. Her mate Galah, with whom she has been living for the past two-and-a-half years, has been missing. Both Galahs and Galah are galah cockatoos bought by Figi Philip for Rs 1.60 lakh, with whom they have been living in Puthiyakavu, Ernakulam.
On November 18, when Figi returned home, Galah wasn't in his cage. "When I asked Galahs, she showed me how Galah flew away from the cage," says Figi. "Galahs used to be a cheerful and energetic bird, but now she's extremely sad. They both were friendly and used to exchange food, before having it. Now, she's not eating anything and I am feeding her a liquid diet."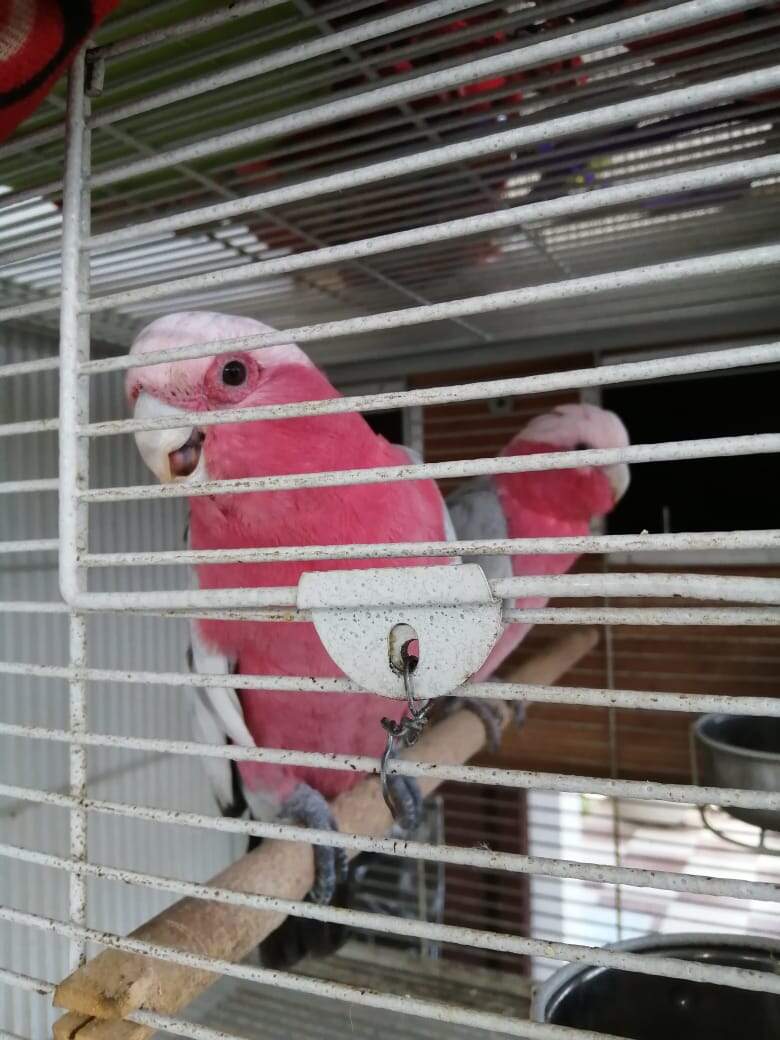 After the four-year-old pink-and-grey cockatoo went missing, Figi took Galahs around the house and to nearby places to reach out to Galah. "Unfortunately, we couldn't find him. Someone said that they heard Galah's cry nearby in the night and we also went there to look. Now, Galahs isn't even crying as she is really upset," the pet parent adds.

This is also the breeding time for the galah cockatoos. "Galahs was preparing to lay eggs; she had feathers arranged in the box and now I wonder whether she will lay eggs," he says. Figi says he is planning to wait some more time. "Even if I get a new one, it would be difficult for the two birds to gell quickly," he says.

Meanwhile, aviculturist Ranjith VM says the possibility of getting Galah back is high. "These rose-breasted cockatoos are hyperactive and sensitive, so given a chance, they might fly away. But they would be within 5km radius of the house," he says.

Ranjith explains that this isn't a one-off instance as last week an African grey parrot in Kochi broke its cage and escaped, only to return a week later. "A macaw in Pala also came back after almost a month. Usually, the birds return on hearing its mate's call," he says, adding most probably someone would have hosted it.

He asks to note the identification ring number of the bird's leg and file a police complaint. "Also, it is important to take care of the other one as it would be distressed," he explains.


End of the article
News in Brief See All
photostory

Ultimate Korean hair hacks for silkier and softer hair

You must have read a lot about Korean beauty, but not so much about Korean hair care. K-beauty skincare secrets have been passed down as gospel, but the wisdom of Korean hair care has just as much to offer. If you're someone who's looking to care for your hair from the Korean perspective, we're here with some best-kept Korean hair care secrets for you to try.
photostory

Things you need to know about Botox

The debate on getting Botox or cosmetic injectables vs natural beauty will forever go on. Either side that you pick, there are some procedures that have their pros and cons. Talking specifically about Botox, there are some myths that keep circulating the Internet which you need to stay clear of. That's exactly why we're here with what you should trust and what you shouldn't.
photostory

Plastic film used in food packaging kills coronavirus: Study

All this while we have been relying on kitchen ingredients like turmeric, cinnamon, ginger and garlic to help protect us from the deadly COVID19 virus, but the real solution is something else. According to a recent research conducted by scientists on food packaging may come as great relief for those who cannot help ordering food from outside during the pandemic and those in the hospitality industry. As per a study, transparent stretchable plastic (PVC) film used in packaging food, meats and vegetables may deactivate the coronavirus! Marketed by Brazilian plastics manufacturer Alpes, the material contains silver and silica nanoparticles, a technology developed and licensed by Nanox.
photostory

3 ways to make protein-rich peanut butter at home

Rich and creamy peanut butter, which simply melts in the mouth is loved by elders and kids alike. This yummy butter is not only delish but also loaded with protein. From being used as a bread spread, in cookie recipes and even as a standalone snack, just a scoop of peanut butter satisfies those sudden sugar cravings. Here are three different ways to make peanut butter at home in the easiest ways possible.
Make your own pill pockets when you need to feed your dog some medicine.
Visual Stories
Entertainment

Divas with beautiful beach bodies

Entertainment

Rare photos of Saroj Khan with celebs

Life Style

Easy ways to look more fashionable

Life Style

Home remedies to get rid of dark spots

Life Style

Ways to wear white bottoms

Life Style

10 pictures to convince you for a day wedding

Life Style

Milestone moments of the Queen and the Prince

Life Style

7 times Princess Diana defied rules and listened to her heart

Entertainment

Celebrities who passed away in 2020

TV

Erica Fernandes' Dubai trip pics are wannabes
Comments (0)