Fur Ball Story
The journey of this start-up began when two students of a college saw how pets on their hostel premises played healers for freshers suffering from home sickness. Srishti Sharma and Animesh Katiyar decided to play healers and collaborated with their furry friends to take trips to corporate firms and heal 'high-strung' employees and calm the 'edgy bosses'.
"Mostly, stressed people at workspaces tend to rush out for a smoke. But we believe in spreading healthy habits and felt that our pawed friends stationed at workplaces can be the best companions for that 'me time'," says Sharma.
There were many takers, especially executives in IT firms, in the mid 20s-early 40s. What started as a project idea from Gurugram has now turned into a full-fledged facility on Golf Course Road with a café, pool and therapy facilities.
It is scientifically proven that dogs can release endorphins or 'happy hormones' in people. "We have kept a track of blood pressure and other parameters while in session and seen people relax; playing with dogs takes off stress," says Sharma.
The project is not limited to offices but extends to people suffering from depression, children with autistic disabilities and homesick youngsters.
Vet it
Question:
Last year, I saw a lot of my friends buy a proper bed for their dogs to brave the winter chill. Do I need to do that? I usually have a quilt and a thick mattress for my pet Beagle. Will that suffice?
Answer:
Yes. A quilt and thick mattress is good for the winter month. If you have a jute lining for the mattress (the part that faces the ground) that'd be ideal, as jute is a natural insulator. But nowadays the easily-available and easy-to-maintain polyfills are more popular. The idea is to make sure your pets are not sleeping directly on the ground, where their stomach or lung is in direct contact with the ground, as that can lead to contact chill. FYI, this is also true when they are sleeping in an AC room – there too they should have their mattress. If your dog doesn't like to sleep on the mattress, make him wear a half-sleeve sweater or coat. Other wintercare tips for pets to make note of…
Don't use heaters around them. If they like to sleep in the heated room, keep a water-filled bowl near them to avoid dehydrating them.
Before their morning or evening walk give them some buffer time to warm up at home. Make them run a bit to avoid a sudden exposure to the outside chill. Even dogs need some acclimatisation.
Ideally, avoid baths during winter. If you do have to bathe them don't leave them out in the sun. Factor in the wind chill.
Increase their calorie intake in winter. They need more energy to keep warm. But watch their weight too.
If your dog wears a coat, make sure your give him breathing space every day. Brush with a wooden comb (to avoid static shock) to keep their circulation going. Also, keep checking the fasteners on their sweaters at the contact points – armpit and belly for the any dermatitis issues.
You can avoid sweaters for furry dogs until it's extremely cold. But breeds like dachshunds need a jacket for sure. Pets are not rough and tough, it's best to give them all the comforts that we use to weather the cold.
—
Dr Narendra Gandhi, Delhi-based veterinarian

Pet corner
Pet Name: Rio
Priya Bansal
"Rio is a VIP"
My cutest Shihtzu, Rio, is my escape to Happyland! He will turn 2 soon, and we can't wait to celebrate his special day with pomp. I have had to fight with my parents for bringing Rio home because they were averse to pets. But now, Rio is a family member; in fact, he is a VIP in my family. He can be grumpy at times but still manages to spread cheer. Rio is the one I love the most and always will.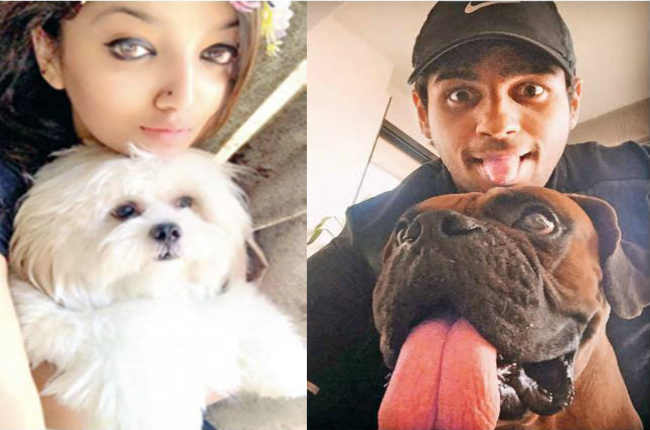 (From left to right: Priya Bansal, Sidharth Malhotra)

Celeb speak

Pet Name: Oscar
Sidharth Malhotra
"Oscar's soft toy collection
will amaze you"
He was a little puppy when someone got him for me from Kolkata. Oscar is five years old. The only thing I hate about my profession is that I am forced to be away from him for long periods of time. But even on the busiest of days, I make it a point to check on him and his well being. Oscar's collection of soft toys will amaze you!
Are you a proud pet parent? Have a cute cat story to share? Maybe your guinea pig is giving you trouble? Whatever is your creature companion, we are here to listen to you. Send your photos, queries and stories to
[email protected]