From Dogs – a new Netflix series about our relationships with canines – to Wes Anderson's Isle of Dogs via Italy's Oscar-nominated drama Dogman, shaggy-dog stories have been inescapable on-screen in 2018. And, accordingly, pooch-themed fandom seems to have soared, too. Take Olivia the dog, the adorable westie that Viola Davis cradles in between dalliances with the criminal underworld in Steve McQueen's thriller Widows, and who has spawned countless memes about her illegibility for the Oscars. Since the film's release, Olivia has been identified as the same dog from the Jason Bateman-starring black comedy Game Night, released in March, sending the internet into meltdown ("Is This the Hardest Working Dog in Show Business?", asked New York magazine's site Vulture , while Jezebel termed Olivia "2018's breakout star").
Olivia's popularity puts her on a par with another much-feted dog, Bradley Cooper's pet Charlie, who starred alongside the actor and Lady Gaga in A Star Is Born this year and spawned effusive headlines such as CNN 's "You're not the only one still thinking about the dog from A Star Is Born". Perhaps capitalising on the labradoodle's success, Peta gave Cooper an award for compassion in film for using his own dog on set. Charlie wasn't forgotten by the fans, either: they noted that he should, by rights, get his own golden statuette.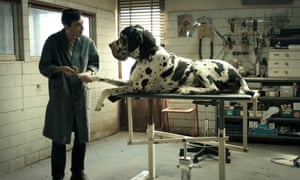 Pinterest
Spotted … one of the stars of Matteo Garrone's Dogman.
But how and why have the dogs of Hollywood captured our hearts in 2018? Post-ironic internet dog culture – held together by a babytalk vocabulary of "doggos" and "good boys" – undoubtedly speaks to a millennial generation who view canines through an infantilising lens (indeed, a recent US study found that 44% of millennials view their pets as starter children, which makes sense when adolescence now seems to stretch well into our 20s). Combine that with a long history of much-loved on-screen canines, from Lassie to Marley and Me via Laurie Anderson and the fact that millennials haven't entirely ditched the cinema, and you have peak conditions for a torrent of fluffy scene-stealers and hyperbolic awards demands.
But could Olivia and Charlie be thanking the Academy next year? There's already an arthouse equivalent: the Palm Dog Award. While a dog was once nominated in the Oscars' screenwriting category (yes, really), that was a case of a disgruntled director (Robert Towne) showing disdain for a production rather than an actual pooch scooping an award. Passed over, too, was Rin Tin Tin, who was said to have garnered the most votes for best actor at the first ever Oscars in 1929. Still, with the Ringer 's Alyssa Bereznak claiming that "if it weren't for her lack of opposable thumbs, [Olivia] could have very well driven the heist van [in Widows]", it is clear that this new breed is giving fresh meaning to the phrase "work like a dog".