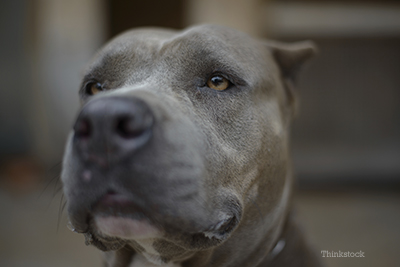 According to Justin L. Mack of indystar.com, it was around 1:00 AM when Indianapolis firefighters were called to respond to a house fire. While such calls are not uncommon, firefighters had no way of knowing the special circumstances surrounding this one. Nick Lamb, a 13 year old deaf boy, was sleeping in the house. Luckily, Nick's two-year-old Pit Bull-type dog — Ace — was already on the scene.

Nick recounted to INDYSTAR, "I couldn't hear anything because I had my cochlear implants off and apparently smoke started coming from the garage and my dog, Ace, smelled it and he came into my room and started licking my face so I would get up."

Mack further reports that since Nick had been taught in school what to do during a fire, he covered his nose and mouth and with Ace by his side, exited the house and called 911 and his mother. Lindsay Bernard, who was at work at the time, rushed home after the call, "I went into a little bit of a panic," she explained, "When I got here the streets were covered. It was mainly just panic and chaos."

Although the home sustained substantial damage, what really matters is that everyone is safe thanks to Ace the heroic dog!
If you have any questions or concerns, you should always visit or call your veterinarian -- they are your best resource to ensure the health and well-being of your pets.