The next time you work, don't just do so with a mouse, grab a cat or two as well. Or even half a dozen. Intrigued? That's what a bunch of city folks are doing. In a bid to make current work life interesting, they are heading to cat cafés to infuse a cheerful element into their corporate lives. Are the felines a disturbance? Far from it, in fact, things are purr-fect, as we dropped in to check the new environment, where work stress appears to be zero.

Corporate folks share how work becomes paw-sible!
For many who choose to co-work this way, it makes for a shift from the usual. Ayesha P, a corporate employee from Andheri shares, "This is one of my favourite places to hang out alone. Since it was so calming among the cats, I realised it would be nice to work here, too. On most days, you'll find me on my laptop, with a cat on my lap; it's such a stress-buster."
Petting an animal is said to have a soothing effect and Anmol Shah, manager at a creative agency, enjoys doing that. "The environment is so calm that it relaxes my mind. Many times, I've been up against deadlines and that stress has kind of melted away being among the cats. The only thing, is they video bomb my Zoom call, but no one minds," she laughs.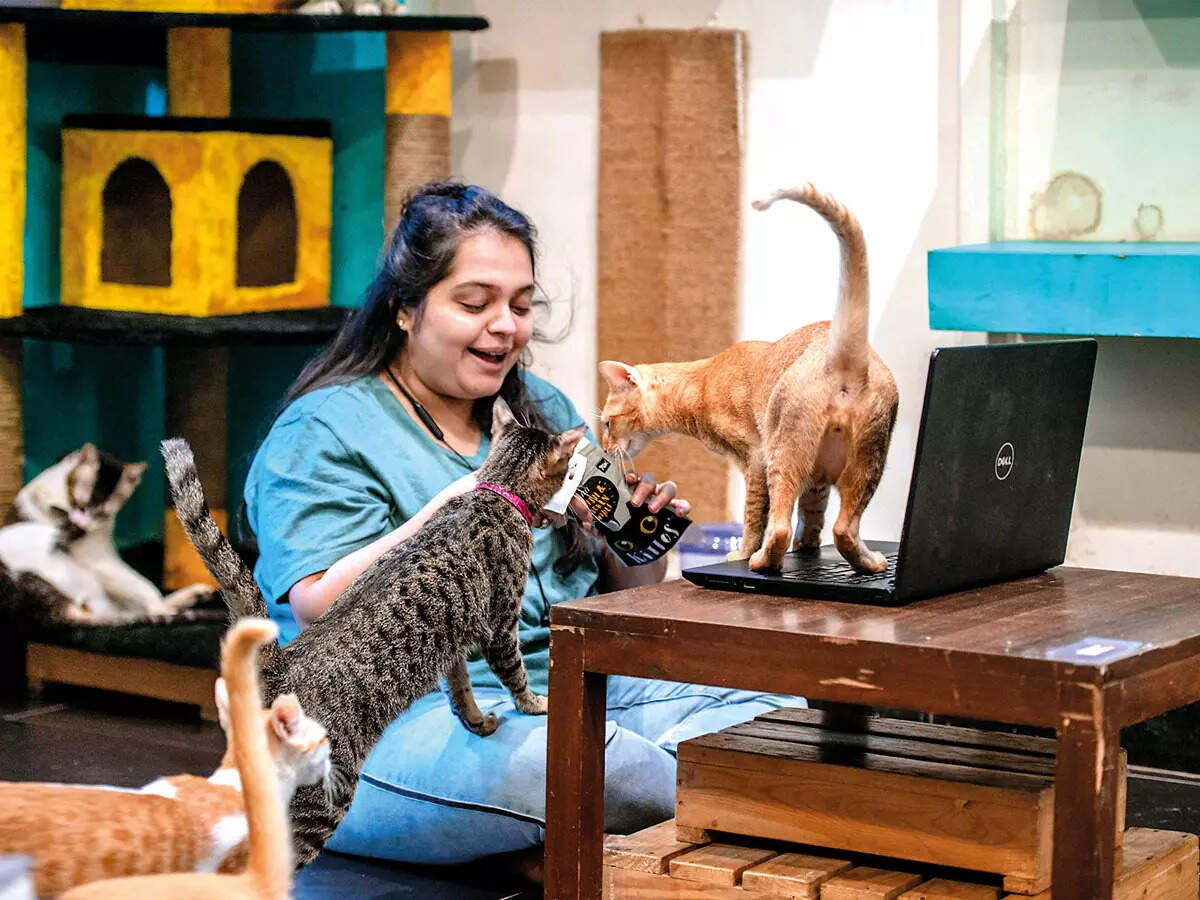 'It's the kind of serotonin people can do with in their lives'
For a lot of people living in this city, it is not often possible to have a cat at home despite being a cat lover, so this fills that void. Says Lamya Kapadia of the café, "Cuddling with cats and listening to their purrs can help reduce loneliness, stress and anxiety. Every visitor who walks in gets unconditional love from them."
Add a little tech to that and it's an office with a difference! She adds, "After staying cooped up during the pandemic, people are looking for places to explore and bring fun into their WFH life. They simply log into the WiFi at the cafe and settle down to work. Having cats around to cuddle while working can make any deadline and meeting less stressful. It is the kind of cherry-on-top serotonin you can do with in your life. People just need to be vaccinated and, of course, follow safety mandates like wearing masks. We also maintain a minimum number of people who can come in."

Several nooks and spots in Mumbai have been functioning similarly. Sanjay Raja, staff member of a bagel shop at Bandra says the eatery's outside area doubles up as a pet-friendly space. "People come in and work in the designated area along with their cats and dogs. They relax and order food as well," he shares.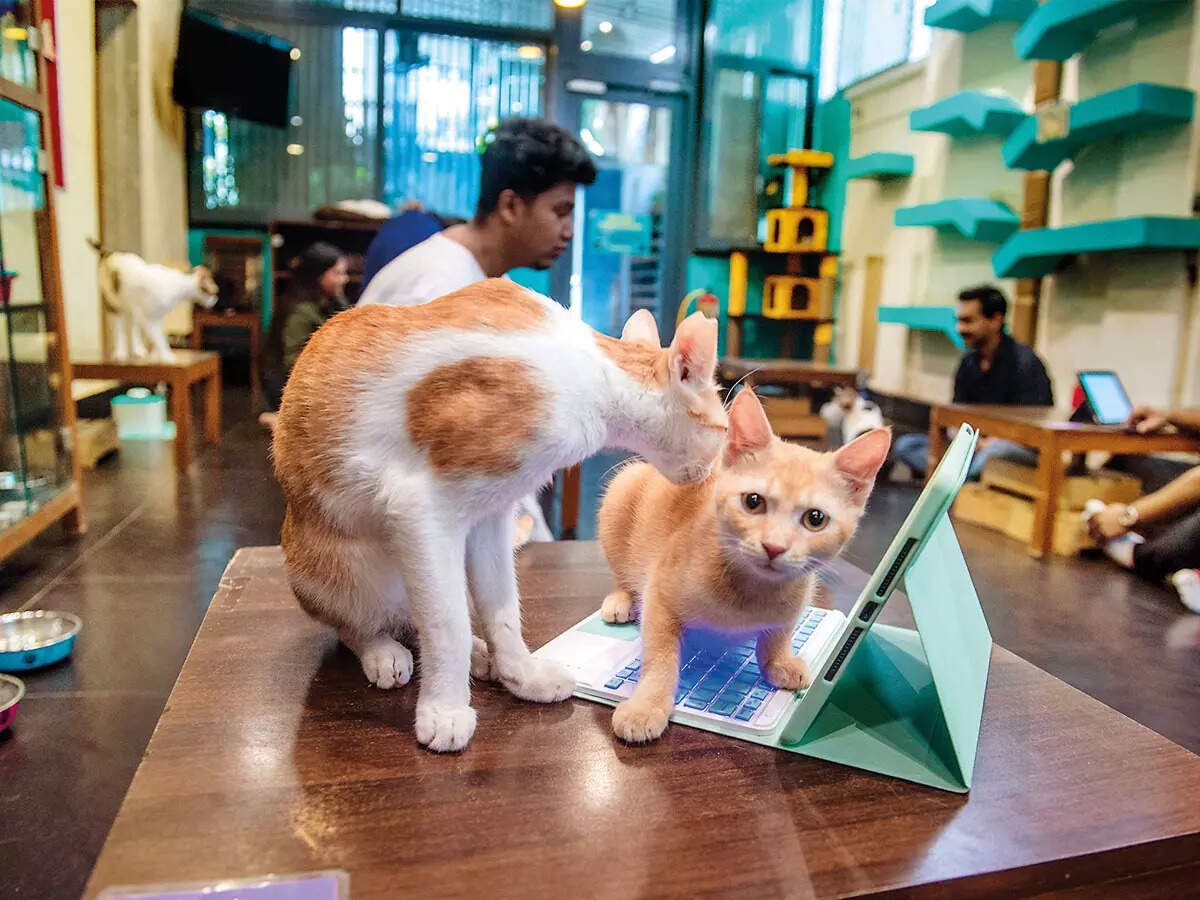 Rise in demand for co-working offices amid the pandemic
There has been an upswing in the demand for flexible workspaces in the pandemic. With a partial return to the office, these spaces are still very much in demand. Karan Virwani, CEO of a flexible workspace provider, says, "Demand for flexible co-working is at an all-time high, especially in Mumbai."

He adds how they blend culture with customisation to create themes, as per location. "For instance, in our location at Nariman Point, to celebrate such an iconic landmark, the space is designed in warm and natural tones and curated as an ode to 'old Bombay'. You'll find memorabilia here like lithographic scenery, murals, photographs and light installations," he informs.

Read Also

Pet regret: Many abandoned dog or cat after lockdown, says survey in Mumbai

On a hot summer day, fill up an inflatable pool with water and ice.
End of the article
Comments (0)
Visual Stories
Entertainment

10 absolutely stunning pics of Jaya Ahsan

Entertainment

Shriya Saran's most alluring moments

Life Style

Mrunal Thakur has the best collection of saris

Entertainment

10 times Regina proved she was a fashionista

Life Style

DIY CHRISTMAS DECOR ITEMS

TV

10 most popular Telugu TV hosts on Instagram

Life Style

Immune-boosting superfoods to fight flu-like infection

Entertainment

10 times Katrina Kaif served us style goals with her saree looks

Life Style

10 coolest hairstyles of Vicky Kaushal