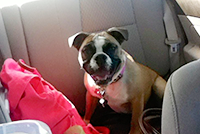 Carrie Underwood made headlines when her dogs accidentally locked themselves and her 4-month-old son in the car, as reported by Lauren Zupkus of the Huffington Post, the singer had to think fast. Later, Underwood took to twitter. "When your dogs manage to lock themselves, all your stuff & the baby in the car & you have to break a window to get in. #WhatAreTheChances."If you're a fan, you might remember that Carrie Underwood has had a thing or two to say in the past about breaking cars. Fortunately, she didn't hesitate to have her brother-in-law do just that. She relieved her fans after her initial tweet saying,"All is good now!"
We're glad everyone's okay and this is a great reminder that when it comes to summer heat safety, you never want to hesitate.
Click here to learn how hot it gets in a parked car>>
For tips to help your dog beat the heat, click here >>
If you have any questions or concerns, you should always visit or call your veterinarian -- they are your best resource to ensure the health and well-being of your pets.
A Safe Place. Creating a safe place for your pet is crucial to its comfort. Make sure your pet has its own place of comfort where it can rest, relax and feel secure.