Once, back when my two sons were small, we went on a self-catering "holiday" in Umbria. I can still remember the smell of rosemary wafting through the window of the magnificent villa as I scraped pasta off the kitchen floor before trudging off to the supermarket, again. I'd rather have been outside, swimming, walking, taking a long al fresco lunch. The self-catering/young kids holiday combo puts me in mind of Tantalus, those succulent grapes cruelly out of reach.
Happily, my sons got older and we could do fun stuff, together: kayaking in Maine, hiking in the South Tyrol, eating out in Paris. We graduated to hotels. But then, six years ago, we got a puppy. We were straight back to self-catering, not in plush gaffes that were way nicer than home, but in sparse, bash-about ones with wipe-down leatherette sofas and barren, plant-free gardens.
Today, thanks to a buoyant pet industry in which the "humanisation" of dog food and accessories and pet wellbeing (think Fitbits for dogs, diet food and organic produce) is a growing trend, canines and their owners can be indulged when on holiday. To this end PetsPyjamas, the online bespoke dog-friendly travel company, helped me devise an active mini-break of soft cycling and easy hiking in West Sussex and Dorset with pampering and luxury creature comforts for myself, my husband, our two sons and our miniature schnauzer.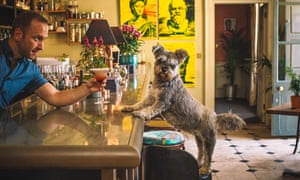 Pinterest
Lapping it up: an evening at the bar. Photograph: Sam Pelly for the Observer
We kicked off with two nights in Bailiffscourt Hotel and Spa in Climping, West Sussex, which is in striking distance of the Wey and Arun Canal, our first cycling destination. Pepper was welcomed with treats, bowls and a new towelling coat. That made me happy; sad, but true. One son has left home for university, the other will soon follow. The self-protective transfer of love from offspring to dog is already in motion.
Bailiffscourt is glorious, and everywhere we went, Pepper came too: to the croquet lawn, to Climping beach that backs on to the estate, indoors to a cosy snug for a post-prandial, or to the idyllic courtyard restaurant where we took delicious – and long – al fresco lunches. Bailiffscourt is a medieval folly, built in 1927 for Walter Guinness, later Lord Moyne, of the brewing dynasty. Pepper, partial to the good life, knew better than to bother the peacocks that roam between the 39 thatched houses and cottages that make up the 30-acre estate and, back in the day, were a hostess's dream: you throw a house party, without having the pesky guests staying under your own roof.
Pepper was less well-behaved as we cycled along a stretch of the charming 23-mile long Wey and Arun Canal, which we joined at Drungewick Lane Bridge. We had hired bicycles from a bike hire company further up Drungewick Lane, as well as a dog trailer to carry her in majesty. She's got short legs. We thought she would tire. But the moment we crossed Drungewick Aqueduct and hit the tow path, she jumped free – and she kept going, past the Onslow Arms where we refuelled before continuing to Loxwood Lock and onwards into lovely ancient woodland.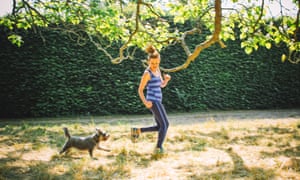 Pinterest
Morning stretch: taking Genevieve for a jog. Photograph: Sam Pelly for the Observer
From West Sussex we headed off to Cranborne, Dorset on what felt like a mini-road trip. The sun was blazing when we arrived at 10 Castle Street, a Grade II-listed Queen Anne mansion in Cranborne Chase which, with its members' club facilities up on the first floor including bar, kids' room and billiards room, has aspirations to be a mini-Babington House, the Soho House outpost in Somerset. Dogs get automatic membership, and are free to roam as if they owned the place. Labradors, here for shooting parties, are regulars. Pepper enjoyed the child-sized armchairs, some of which are upholstered in a bone-print fabric.
No 10 is not far from the New Forest, our second cycling destination. But on arrival at the quietly luxurious nine-bedroom hotel, we headed for the garden. Our plan, to dump our bags and go for a walk on Cranborne Chase, the ancient royal hunting ground that was the site of Tess of the d'Urbervilles's rape in Thomas Hardy's novel, was promptly scuppered. You don't get many opportunities to have lunch in a formal English garden while your dog roams free, and we made the most of it, relishing a hearty meal on the bucolic terrace. Until we heard a splash. Pepper is not a swimmer, and I was forced to abandon my fish and chips to investigate. I found her paddling beneath a piece of modern sculpture in the pond, cooling off.
The next morning I woke early, from the heat and the birdsong. Our capacious bedroom overlooked the formal gardens and, for once, I put on the running shoes I always pack on holiday and never use, and went for a jog, with Pepper. After a few laps of the very large garden, I rewarded myself with a very good breakfast on the terrace.
Pinterest
A quick dip: cooling off in the fountain. Photograph: Sam Pelly for the Observer
Fortified for our next bike ride, we set off for the New Forest, a 40-minute drive away, where we hired more bikes. Pepper kept jumping out of her new handlebar basket, though happily not when we chanced upon wild ponies that stood in clusters, looking mindful and mythical as they took shade beneath the trees.
The New Forest looks flat, and perhaps it feels so to fit cyclists, but I found there were more ups than I had bargained for. Pepper was now glad of the trailer. We were all hungry and parched by the time we reached the diminutive, three-room Royal Oak, a gem of a thatched pub in Fritham that serves seven real ales. We devoured their excellent local cheese ploughman's before struggling back to No 10 in the heat.
I did want an active mini-break, but realise I am more cut out for the high life, and so is Pepper. A party animal, she has been to a Santa Paws Christmas do and eaten faux foie gras canapés served by humans in doggy costumes. To have her join us for cocktails at the chic bar at 10 Cranborne Street that evening felt entirely natural. Make mine an Old-Fashioned, I said to the first-class bar tender as Pepper fetched up on a stool. She went for a hair of the dog.
Book canine stays at Bailiffscourt Court and 10 Castle Street through petspyjamas.com. Bike hire in Sussex by southwatercycles.com and in the New Forest by awayresorts.co.uk. Dog basket by innerwolf.co.uk