They say that adopting a dog is a process of self-discovery, whereby you realise and identify traits and attributes of your lifestyle and personality that perhaps you wouldn't have known about. This is because choosing a dog is about getting home a pet whose personality and breed characteristics are in tune with your own nature and compatible with your routine. Any clash in either leads to unhappiness for both.
While a Beagle, Golden Retriever, Bearded Collie, German Shepherd, Brittany Spaniel or a Labrador would make for an ideal socially-active and friendly pet, a Chihuahua, Toy Poodle, Giant Schnauzer and Pekingese are socially reserved.

Suitable to family

If you have children at home, you can choose from children-friendly, gentle and lovable breeds like Pug, English Cocker Spaniel, Boxer, Beagle, Basset Hound, Labrador, German Shepherd and Golden Retriever, amongst others.
Maintenance costs
When you've set your heart on a particular breed, do spare a few thoughts to consider whether you'd be able to afford the upbringing costs of that breed. Keeping the cost of purchase aside, every dog has his own needs of food, grooming and health care. Choosing a breed whose monthly maintenance costs can meet your budget, will keep you worry-free and ensure quality upbringing for your pet.
Compatibility with multiple pets
If your household has more than one pet, adopt a breed which is known to enjoy company and get along well with other animals. Bulldog, Retriever, Poodle, German Shepherd or a Doberman are some breeds who are known for their adaptive intelligence, and thereforemake for a good choice in cases of multiple-pet households.
How active are you?
Exercise or other forms of physical activity being an extremely important need of every dog – this is one responsibility that you, as an owner, cannot avoid. However, what you can do is make a choice between a breed that requires intense exercise on a daily basis and one that can do with a few rounds of leisure walking, depending on your lifestyle regime, personal levels of preference for activity and the amount of exercise you are willing to provide for your dog on a daily basis.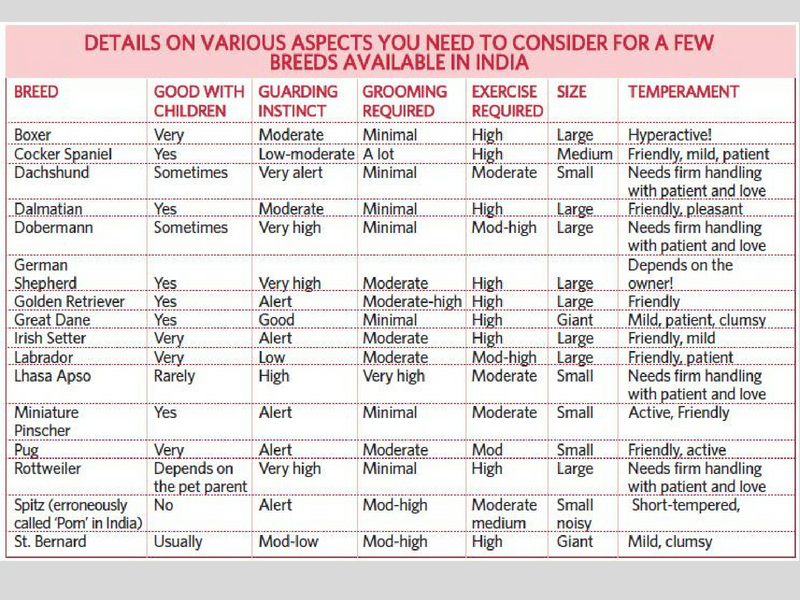 Size up your house
The size of your house is an important factor in deciding what kind of dog you should get home. While small dogs can adjust well in both big houses as well as apartments, in case of larger breeds, it is imperative to provide them with open spaces to play and move about freely without feeling restrained or suffocated.
Adaptability to climate
A fact unknown to many is that the pure breeds which are largely popular among dog owners are of foreign origin and hence more suited and comfortable in a particular climate, which might be alien to Indian conditions. Densely coated dogs such as a St Bernard, Golden Retriever or Cocker Spaniel therefore, if not kept in an air conditioned environment for most of the day, will tend to produce symptoms of illness, depression and dullness.
Give Indian breeds a chance
Give our great Indian dogs a home as they are best suited for our climatic conditions – do open your heart and home to them.
What is unfortunate is that hundreds of pet dogs worldwide are abandoned on roads and animal shelters with the excuse that they are 'problem dogs.' The truth, however, is that while one dog might seem troublesome and uncompromising in one household, in the other he could get appreciated and rewarded for his 'adorable' behaviour and become everyone's favourite pal.
So, when you do go out looking for that perfect, lovable pooch to bring home, don't just go by the angelic looks, the majestic gait or the furry coat of the puppy or for that matter, not even by the wants of your child who insists on buying the same dog that his or her best friend has. Bring home a dog which matches your personality, and can be happy in your household, keeping in mind the points above.
- Manta Sidhu
www.dogsandpupsmagazine.com
www.facebook.com/Dogsandpupsmag
Pet Query
Q. My Lab is 11 months old and she is not allowed on the bed. But she keeps trying to get into it. How can I make her comfortable in her own basket?
–Dhruvee Diwadkar, Jalandhar
Your puppy needs to feel like an accepted member of the family, and having her own home within your home will help her feel secure and comfortable. First, choose a quiet area of the house where your puppy can sleep without being disturbed whenever she's tired. You may want to partition off an area around her bed for a few days to create a den where she is secure and stay out of harm's way. Try not to spend too much on an expensive bed that she's likely to chew. And since you still need to line the bed with something soft and warm, choose an old blanket instead. At this stage you will probably need a lot of obedience training. Get a trainer.
— Dr Umesh Kallahalli