The lockdown implemented due to the coronavirus outbreak has been challenging for many, including the pet parents. Though they are getting much more time with their fur babies, ensuring regular grooming and exercise for the pets has become an issue. Several pet parents, however, have found innovative ways to take care of grooming and exercise for pets while staying at home.
'Our beagle loves running around the house after us'
Usually, the working pet parents would send their pets to day-care or manage their schedule accordingly. Since several are now working from home, it is a treat for their furry friends. "I have a very active beagle and it is necessary to take him out for walks regularly. Otherwise, he keeps running around the house," says Radhika Singh, a resident of Pusa Road, who works as a network marketer.
"Earlier, we used to take him to the Nehru Park but now we just try to do some activities at home. He loves running around the house after us, so we do that, which is good for us, too. We are doing the best we can, given that we live in a three-bedroom apartment with no open space, except a balcony. However, he seems quite stoked that we are all together all the time. He snuggles with us while we are playing board games or watching a movie," she adds.
Divya Sreeji, who lives in Sector 22, Gurgaon and runs a cake shop, says, "We have bought bones for both our dogs to gnaw on. We have also increased their indoor activities. We often play fetch the ball with them. This keeps both the dogs as well as the kids engaged."
'We make sure our dog's personal hygiene is not affected'
Other pet parents are making sure that they keep their pets perfectly groomed during this time. "Earlier, we would either take our dog to a grooming salon or call for such services at home. But now, we are grooming him at home. We make sure that his personal hygiene is not affected. It also keeps us busy," shares Himanshi Tyagi, a resident of Lajpat Nagar, who works at an IT company in Gurgaon.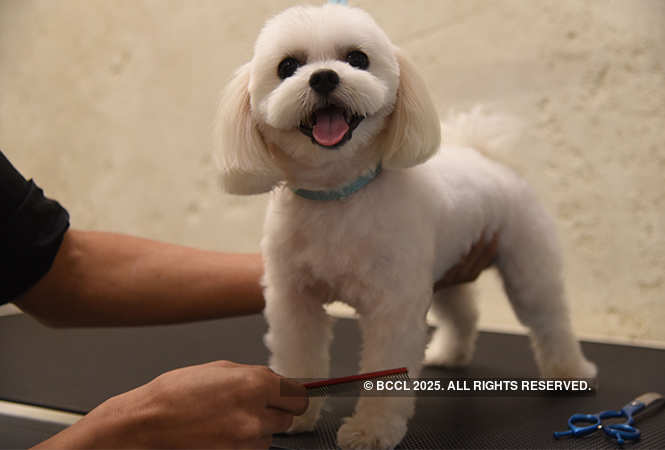 Picture for representative purpose only

'One can hide treats around the house & let the pets find them'
Namratha Rao, a canine trainer and behaviourist and also a pet parent, lists down many activities that one can do with their pets at home. "Spread the dry portions of a dog's meal under a bedsheet for them to sniff it out. Hide and call your pet/s to let them find you. Ask them to stay while you hide again. This is super fun for dogs and also a part of obedience training. You can also hide food or treats around the house and teach the dog to sniff them out," she suggests.
Mayank Gupta, founder of a pet portal, shares , "Stick to their regular workout times. Run up and down the stairs with them, if that's a possibility in the house. Spend time on balconies or the roof. Some interactive feeding toys for dogs have also come up . They reduce the pets' anxiety levels."
Archie Gangrade, a consultant and a resident of Sector 58, Gurgaon, shares that one can also play catch the toy with their pet. "Whenever your dog takes his own toy, you can make this game interesting by trying to catch him while he runs with his toy," she says.


End of the article
Visual Stories
Travels

Facts about Antarctica that will astonish you!

Travels

The finest luxury destinations in the world

Travels

Unique stories about Rajasthan's forts

Entertainment

Real-life couples who lit up celluloid

Entertainment

10 Times Aishwarya slayed at Cannes

Entertainment

Celeb kids - social media superstars

Life Style

Smart DIY crafts for kids

Entertainment

10 Celebs who did cameos as kids

Life Style

DIY all-weather ideas for mason jars
Comments (0)