Pet cameras are an excellent choice if your real purpose in choosing a security camera is not for watching the front door, but to check how often the dog jumps on the sofa or to simply check on their welfare. A regular security camera does a good job, and some even have settings to alert you if its microphone picks up the specific sound of a dog barking, like the Nest Cam IQ Indoor, below.
There are also dedicated pet cameras which offer more however, such as treat dispensers to reward your pet for good behaviour or to simply demonstrate your affection.
You can also talk to your pet through the camera. It should be noted that animal behaviourists are not all convinced that this feature should be used indiscriminately. If your dog is eager for you to get home, the sound of your voice can confuse or excite them. Still, a timely intervention might just break up a canine spat, especially if you can distract them with a carefully timed treat.
Above all, knowing that your dog isn't running around frustrated or agitated while you're away offers real peace of mind, although, be warned that it might make you miss being with them all the more.

Furbo: £249, Furbo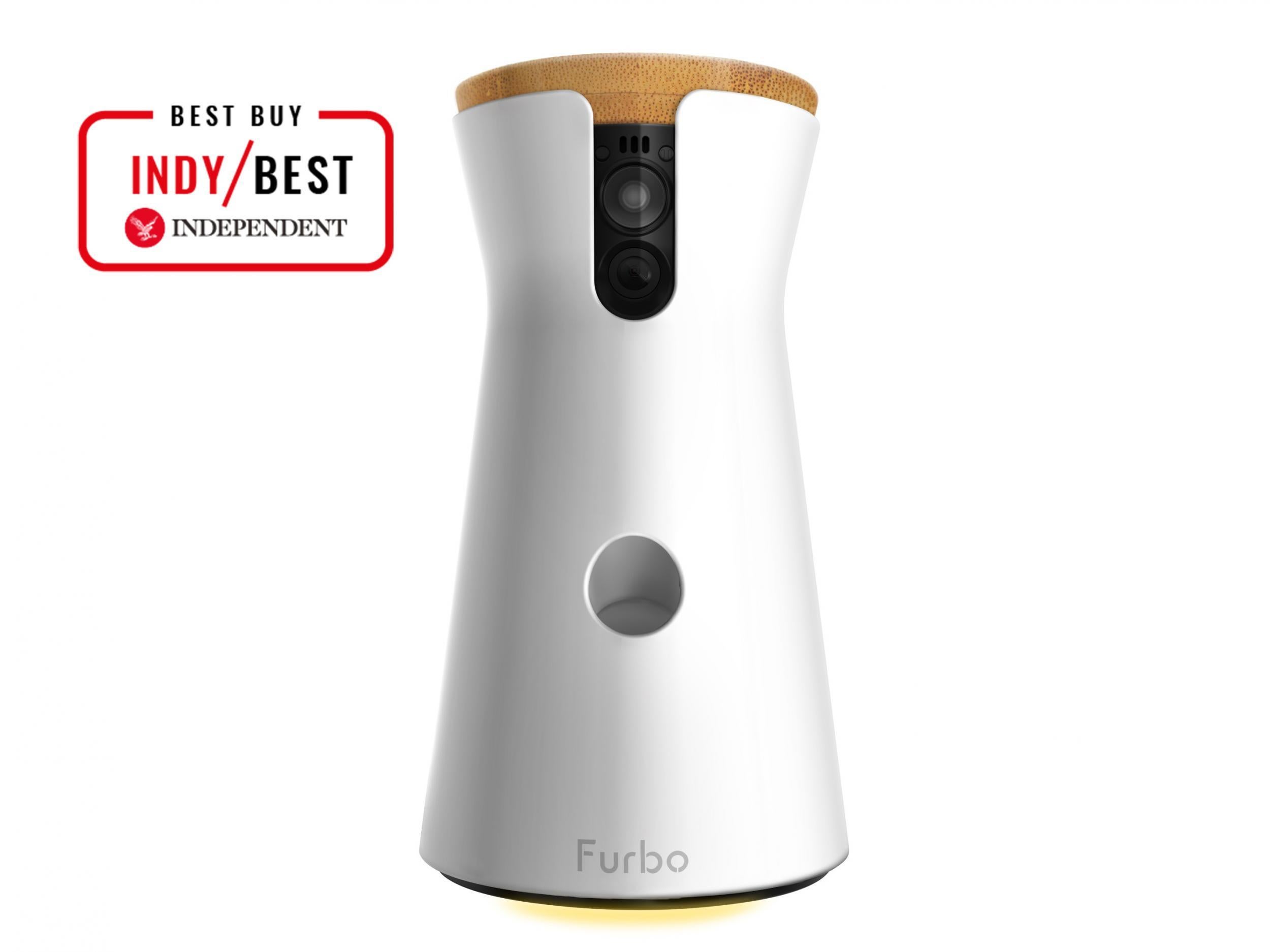 Pet: Dogs
Treat dispenser? Yes
Two-way speaker? Yes
Motion detection? Yes
Night vision? Yes
Audio alerts? Yes
The Furbo is a pet camera with great build quality and solid features. Its design won't appeal to all with its gloss white body and bamboo lid, but even so, our testers found it the best-looking camera available apart from the Nest below. It looks better than most, though it was still enough to scare my dog at first, even when her favourite treat was suddenly produced. Soon, though, she realised that when it makes a particular sound, a treat would follow and she would approach it, if gingerly.
Create Your Own Doggie First Aid Kit. You never know when an accident might happen so it's recommended to have a first aid kit on hand just in case. Here's a great list of basic items a pet first aid kit should have.
The camera shows clear images on your smartphone and two people can use the app. You can set it to alert you if it hears barking, so you can see what's troubling your dog. A distraction with a dispensed treat may be enough to calm them. It has smartphone apps and a setting for Apple Watch, making releasing treats especially easy. It's also simple to set up and has hidden smarts: the light turns either yellow or blue according to whether it's in sleep mode or in use, and these are the two colours dogs can see, so it can help them anticipate a treat!
Nest Cam IQ: £299, Nest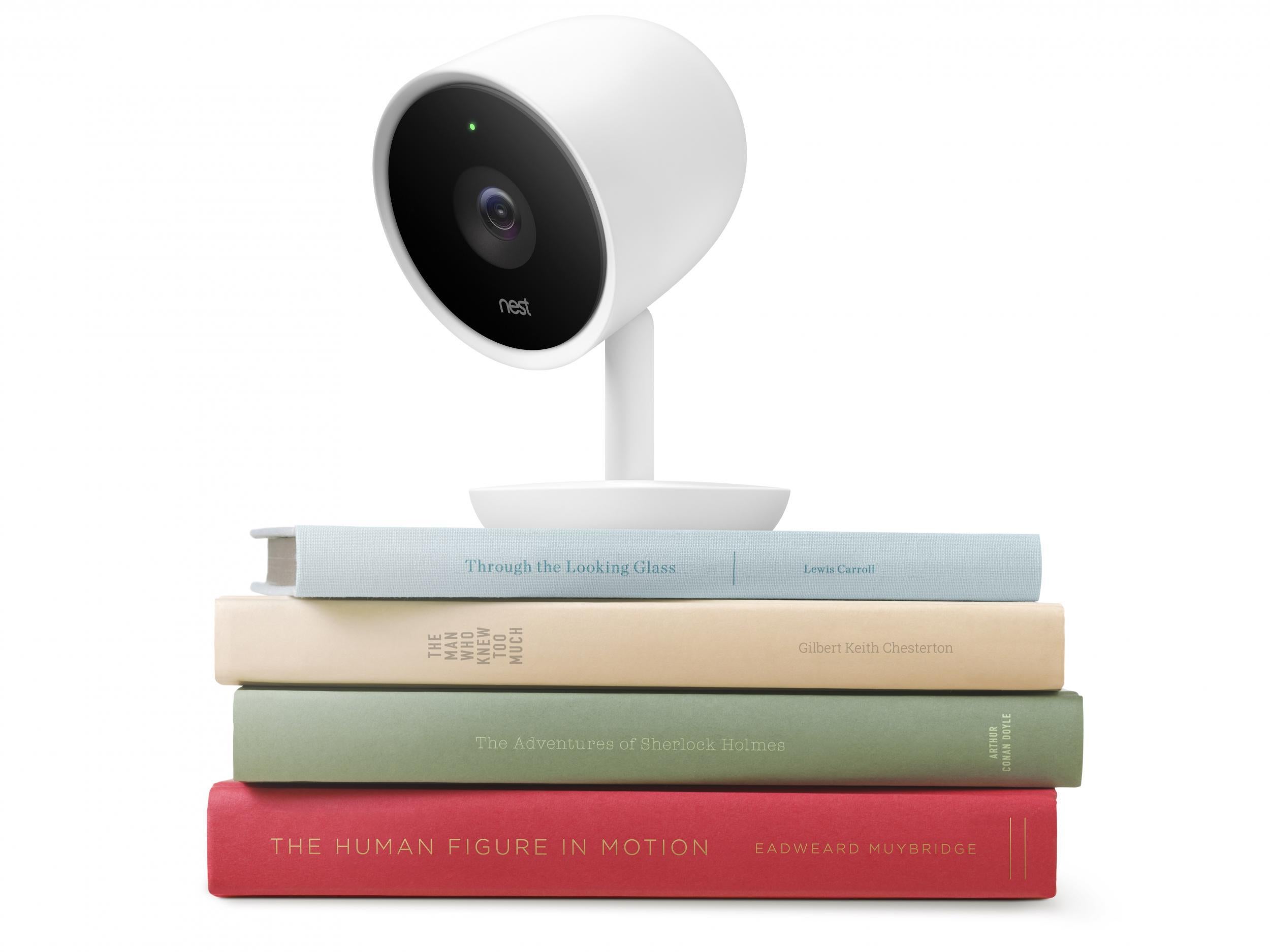 Pet: Any
Treat dispenser? No
Two-way speaker? Yes
Motion detection? Yes
Night vision? Yes
Audio alerts? Yes
This is a regular home security camera but we've included it in our roundup for a number of reasons. Firstly, it has features which work perfectly for pets and, secondly, it does what it does better than any other security camera on the market. For instance, the high-quality image sensor in the camera means you can watch what's happening on your phone screen, zoom in and still have high-quality images. Also, if you subscribe to Nest Aware, you can set up audio alerts. You can choose to be alerted when the camera hears a person talking, a dog barking or all other sounds.
Additionally, you can set which parts of the camera's view are relevant using Activity Zones with Nest Aware. This is usually to focus the live zone on a window or doorway, but can just as easily be used to mark out the area where the sofa is, say. You'll get alerts when the dog jumps up, but not when your pet is lying on the floor if that's outside the zone. It's also a great-looking camera that works extremely well. A Nest Aware subscription can be purchased annually or on a monthly basis, costing from £4 a month for video history stretching back 5 days.
Pawbo+: £99, Amazon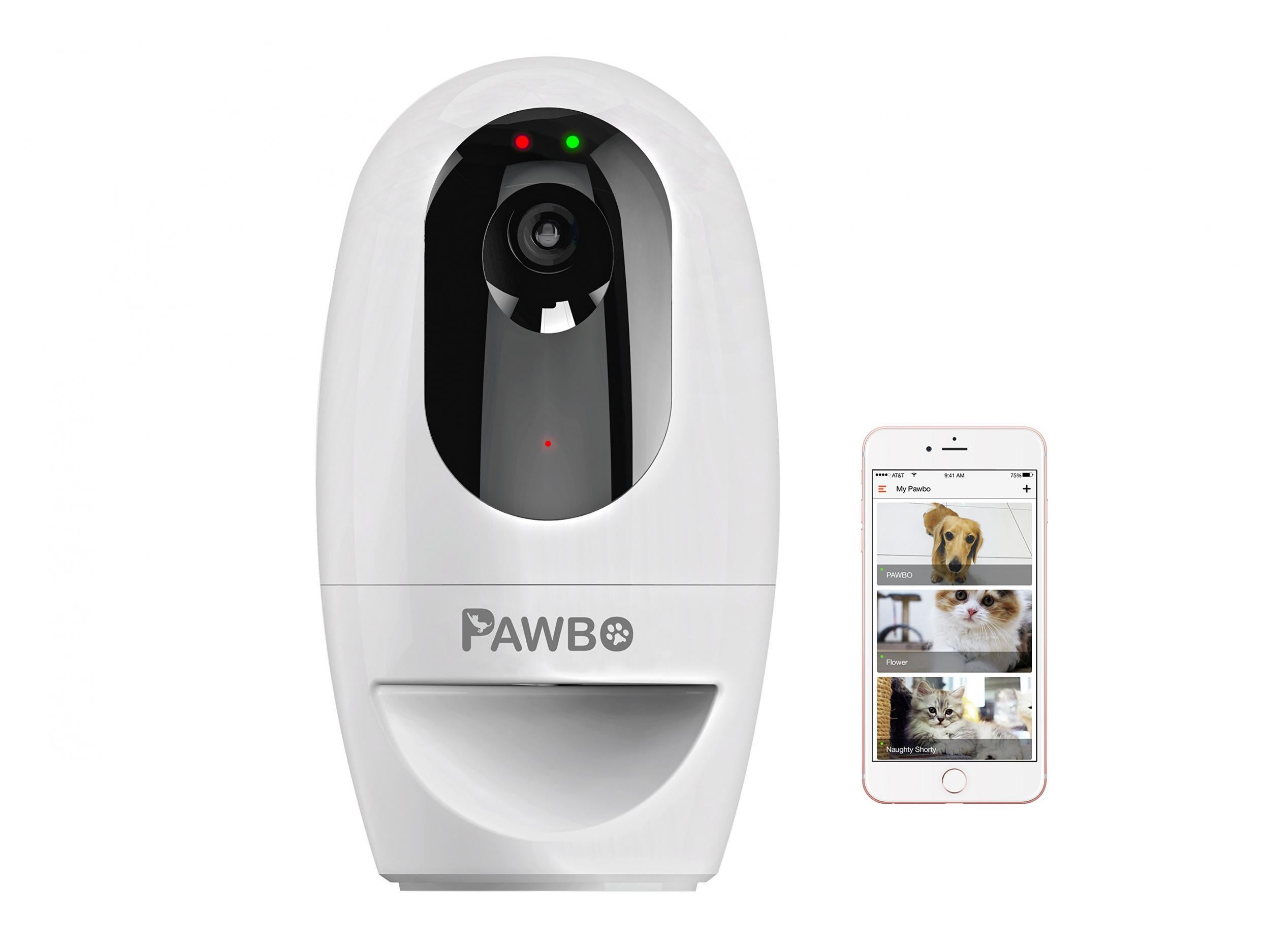 Pet: Any
Treat dispenser? Yes
Two-way speaker? Yes
Motion detection? Yes
Night vision? No
Audio alerts? Yes
The small Pawbo+ comes with an extra WHAT to suit cats and a laser game to engage them (though not all animal experts approve of these kinds of toys). Pawbo aims to suit every kind of animal – with the right treats inside you can appeal to, and keep an eye on, birds as well as cats and dogs. These dispense downwards, however, (Furbo's treats sail through the air) so the Pawbo needs to be placed on the floor or where the pet can easily access the treats.
Teach Your Dog to "Find the Treats" for a Fun Game. Teach your dog to 'find their treats' by hiding them throughout the house. Simple nose work games are a great way to keep your dog busy & mentally stimulated. It's Laika's favorite indoor game by far. (Looking for some more indoor games? Here's 33 simple ways to keep your dog busy indoors)
While this model is not as accomplished as a gadget like Furbo, it is significantly cheaper. You can add a pair of ears (£29 extra) which ostensibly make the camera look more like a cat (hint: no pets are fooled by this) and, more importantly, provides a light which comes on gradually when the room darkens – this is good as there's no night vision on the Pawbo+. Note that the Pawbo+ is on sale at Amazon for £99 instead of its regular £149 price. It's called Pawbo Life but is the same model number (PPC-21CL).
Petcube Play: £139.99, Amazon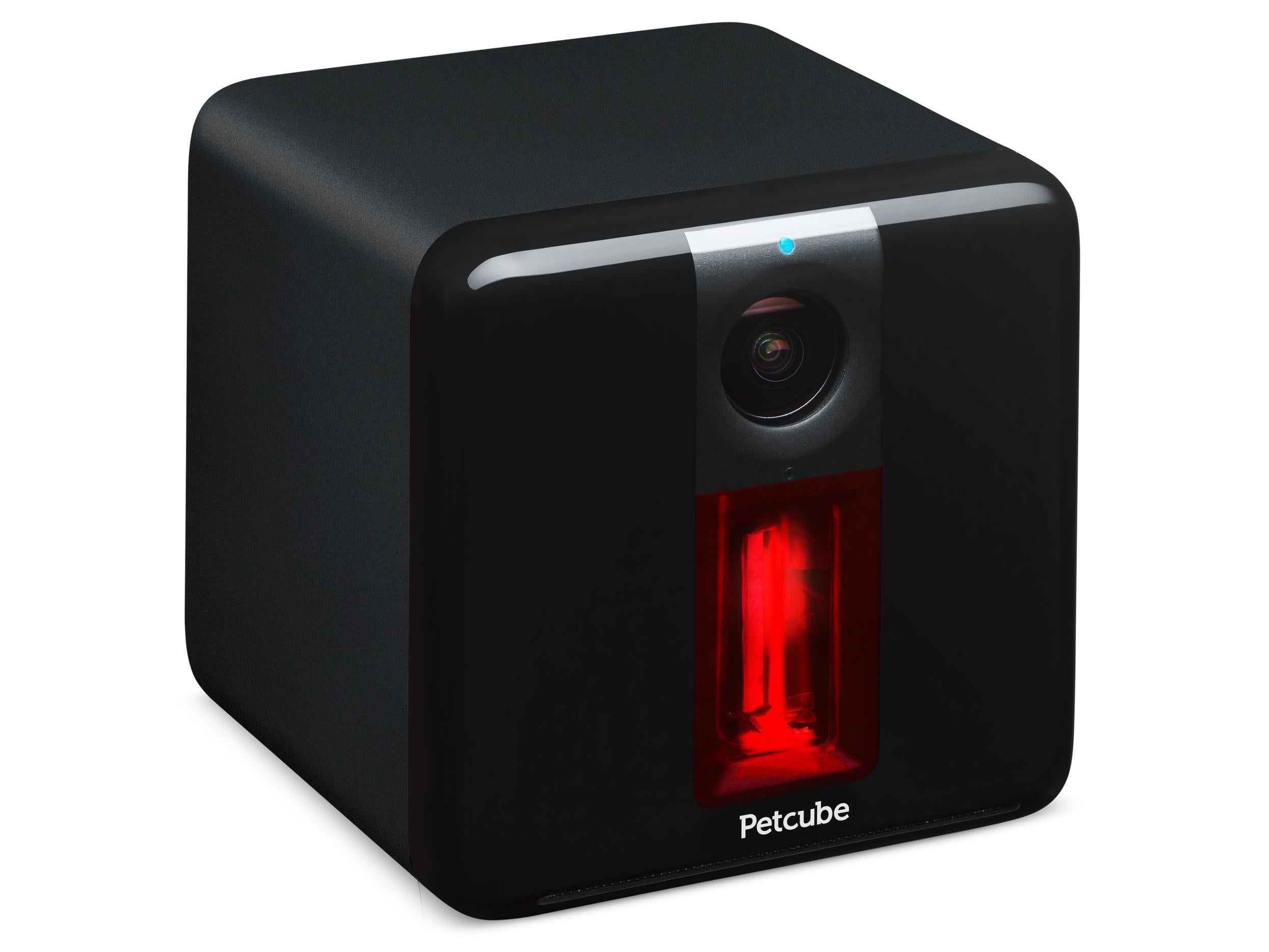 Pet: Any
Treat dispenser? No
Two-way speaker? Yes
Motion detection? Yes
Night vision? Yes
Audio alerts? Yes
There's no treat mechanism in this device, so it's purely for monitoring, not for rewards, but the Petcube Play is both neat and effective. It comes with limited amounts of cloud storage: you can rewind the last four hours, in case you need to establish which of your dogs' left that greetings message on the mat, for instance.
If you want more, subscriptions are available. Like the Pawbo+, there's a light dot here you can use: drag it across the smartphone display and the laser moves accordingly. Again, not everybody thinks that's such a good idea. It's also reasonably compact, as a result of omitting the treat dispenser, measuring about 8cm in each direction.
Petcube Bites: £219, Petcube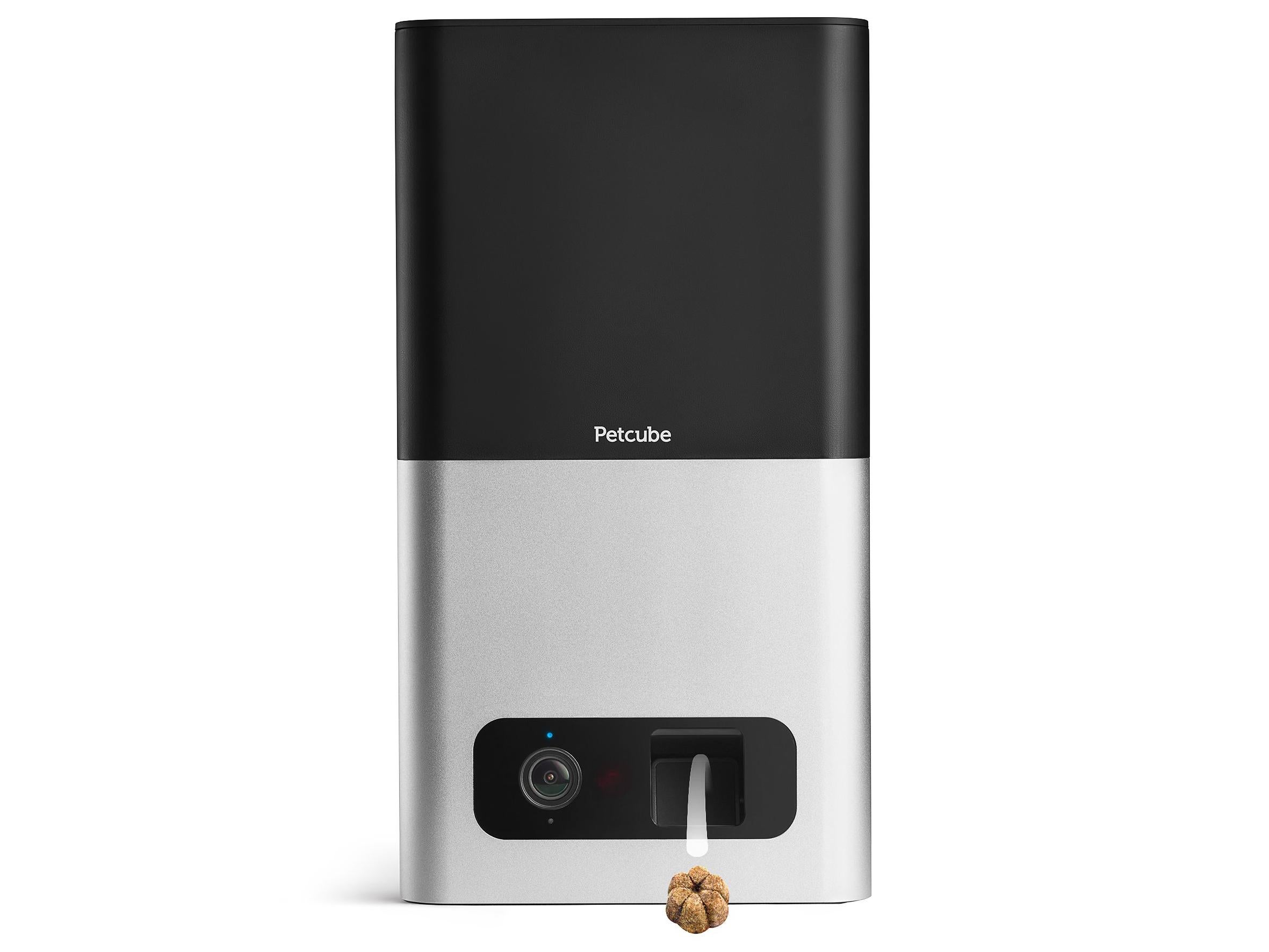 Pet: Any
Treat dispenser? Yes
Two-way speaker? Yes
Motion detection? Yes
Night vision? Yes
Audio alerts? Yes
Like Furbo and Pawbo+, you can reward, or just surprise, your pet with a treat released into the room. Unlike others, Petcube Bites allows you to adjust the distance over which the treat is flung by how you aim the animated treat on the smartphone screen which is fun, if a bit hit-and-miss at first. It's a larger machine than others, around 33cm tall, and has a classy brushed metal design.
The size also means there's substantial treat storage capacity. Like the Petcube Play, you get four hours of video footage free – more is available with a subscription. If you have Amazon Alexa, this gadget is compatible, so you can use your voice to release a treat.
Petzi Treat Cam: £326.77, Amazon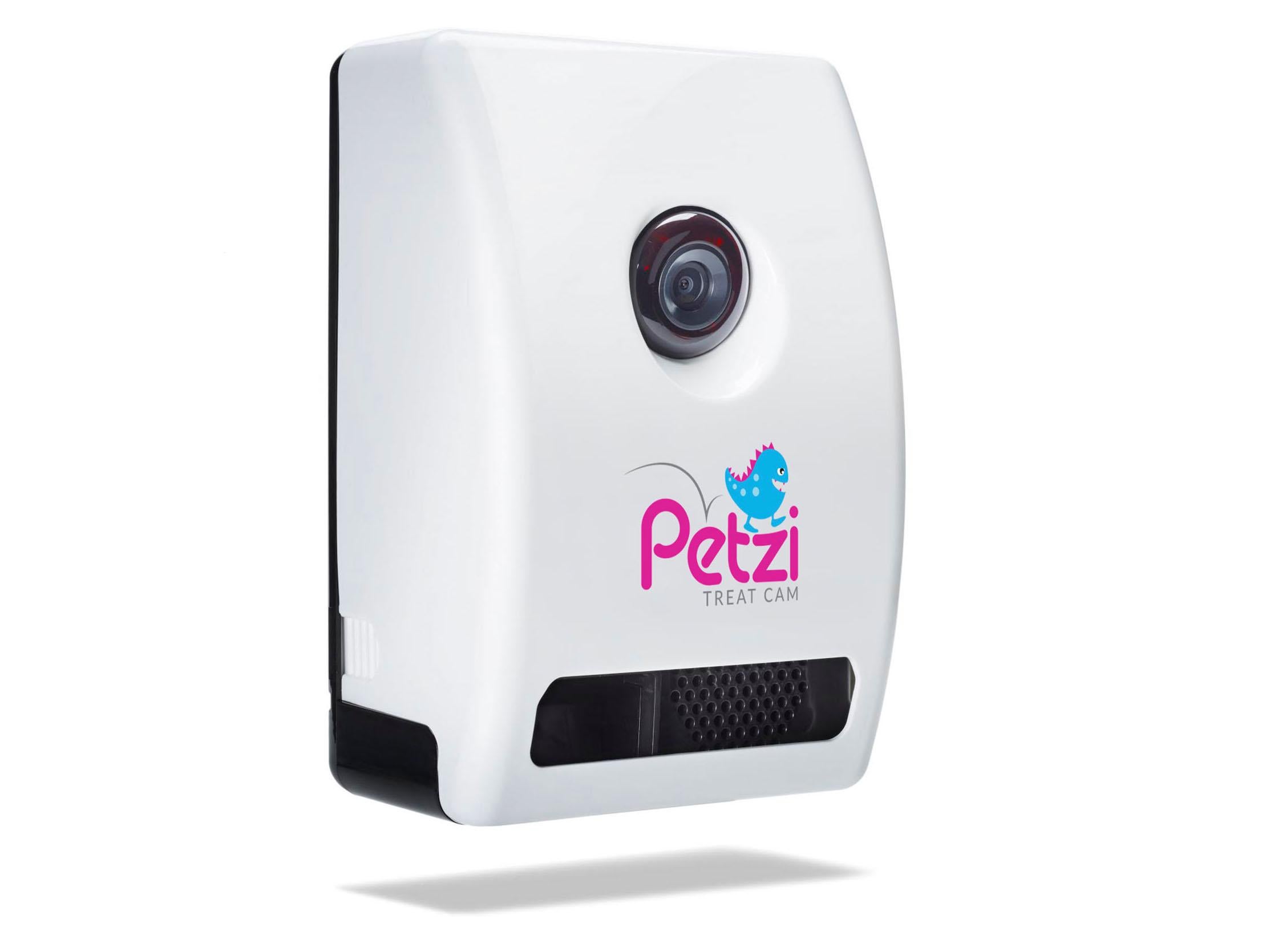 Pet: Dog
Treat dispenser? Yes
Two-way speaker? No
Motion detection? No
Night vision? Yes
Audio alerts? No
Petzi was one of the first pet treat cameras on the market and it has been overtaken by other newer models featured here. Not all treats work with it and it can jam, although treats smaller than one inch are fine. More disappointingly, the audio is only one way, so you can't hear your dog if they're crying or barking, for instance. The camera quality is good, but the Furbo and Nest cameras are better. As with others here, you can snap photos of your pet doing something irresistibly cute, but it's expensive for what it can offer.
Treat Every Poop Like a Miracle aka How to Easily Potty Train a Puppy. When potty training your dog make sure to pay attention & praise them every single time they do their duty outdoors. If you treat every pee & poop outdoors like it's the best thing that ever happened they'll catch on pretty quick.
Neos Smart Cam: £19.99, Neos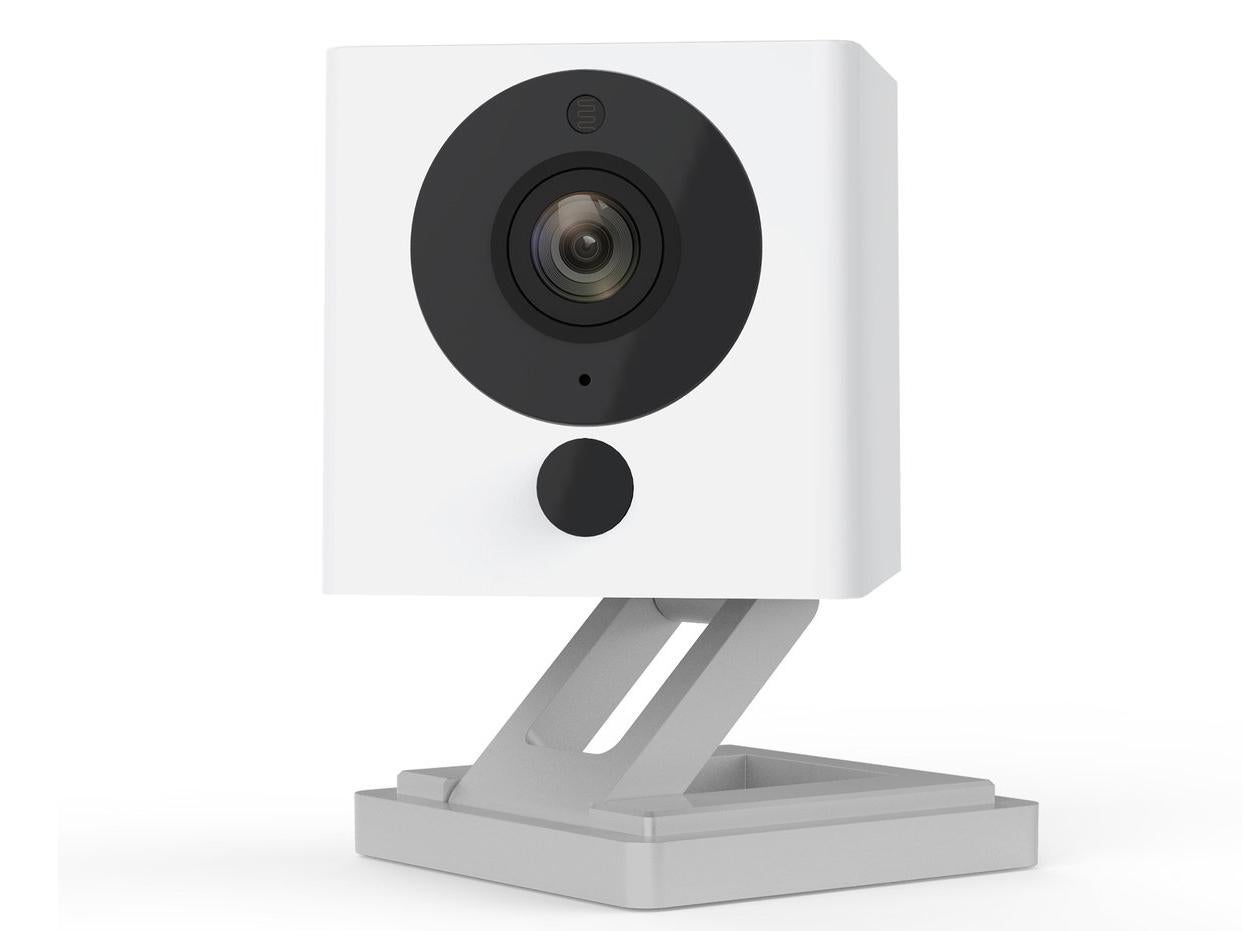 Pet: Any
Treat dispenser? No
Two-way speaker? Yes
Motion detection? Yes
Night vision? Yes
Audio alerts? Yes
Like the Nest, this is a general home security camera rather than one optimised for pets, but it's worth including here because it's quite the bargain. Video quality is acceptable, but nowhere near that of the Nest, or some of the dedicated petcams. Despite that, it's a tiny, neat unit which is very easy to set up and use. A motion sensor spots any movement and you can adjust the sound sensitivity controls in the app.
When it senses motion, it automatically uploads a 12-second recording to the cloud, although it's worth noting that a further clip can't be recorded until a minimum of five minutes later. A compatible memory card will eventually be available for installation in the camera to save data locally, although this feature is still being developed. Just live for pre-orders, the Neos is scheduled to be delivered from the end of January.
Clever Dog: £32.99, Amazon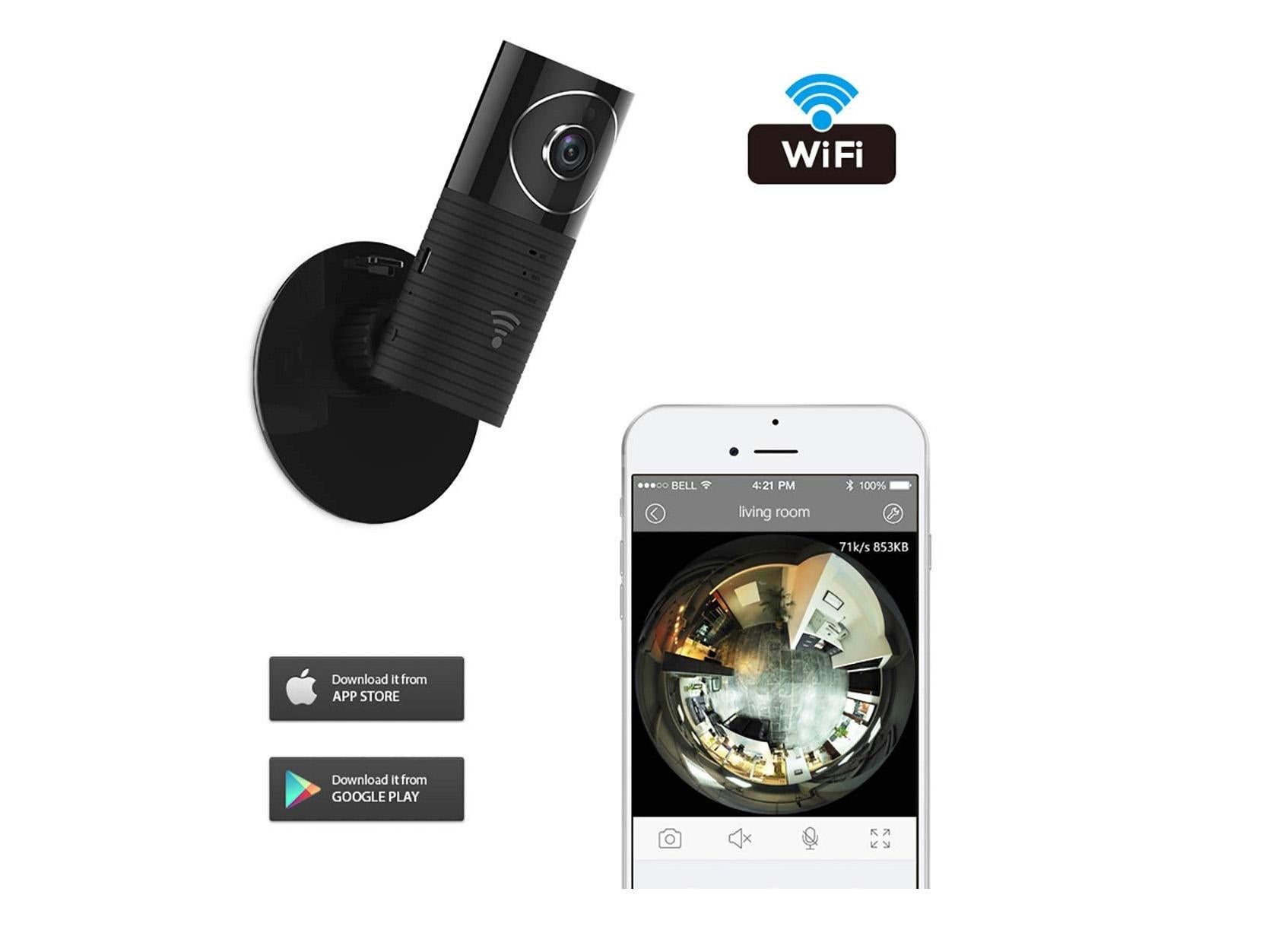 Pet: Dog
Treat dispenser? No
Two-way speaker? Yes
Motion detection? Yes
Night vision? Yes
Audio alerts? No
In the affordability stakes, the Clever Dog comes in at a close second.
While it lacks a treat dispenser and many of the bells and whistles of pricier models, there's a lot to like in this small, highly affordable model. Night vision and motion sensors features are impressive, however, and two-way communications – which even pricier items such as the Petzi omit – is good.
Like the Neos, you can put a memory card in the camera to record video, and can view it live on a smartphone app, a facility all the cameras in our round-up offer. The Clever Dog might be basic, but it's highly effective – especially at that price.
The verdict: Pet cameras
The Furbo is solid, well-built and thoughtfully designed to appeal to humans and canines, and is easily the best all-rounder here. Pawbo+ is cheaper and matches it in many respects, although it's just not as attractive or effective. The Neos is the real bargain, despite lacking pet specialities. And, the Nest Cam IQ Indoor is the best model on test in terms of design, picture quality and versatility, even if it's not a dedicated petcam. It has enough smarts to suit animal-watching as much as anything else, but lacks a treat dispenser.
IndyBest product reviews are unbiased, independent advice you can trust. On some occasions, we earn revenue if you click the links and buy the products, but we never allow this to bias our coverage. The reviews are compiled through a mix of expert opinion and real-world testing.
Make him part of the family. Pets, especially dogs, need companionship. They are traditionally pack creatures and need the warmth and love that comes with living indoors with their family.